Week beginning Monday 23rd November 2020
Monday 23rd November
PSHCE
This morning we will be talking about expected and unexpected behaviour as part of our continuing work on the zones of regulation. Here is a quick guide for you at home:
Lesson 5 -Understanding different perspectives:
What a person does can affect how others think and feel
When you are in the blue zone- your body is running slow, such as when you are tired, sick, sad or bored.
The green zone- like a green light- you are 'good to go'. If you are in the green zone, you may feel happy, calm and focused.
Yellow zone- proceed with caution and slow down! The yellow zone describes when you start to lose control such as when you are frustrated, overwhelmed, silly, wiggly, excited, worried, anxious or surprised.
It is a good idea to use caution when you are in the yellow zone.
Red zone- reserved for extreme emotions such as terror, uncontrolled anger, aggression and elation.
When you are in the red zone, you are out of control, have trouble making good decisions and must STOP.
Key vocabulary used today:
'Doer' – the person or persons doing the expected or unexpected behaviour in a situation.
'Social emotional chain reaction'- describes the process through which we have thoughts, feelings and related reactions and responses to others' expected and unexpected behaviours.
Children to learn that- in a specific situation there are expected and unexpected behaviours that a person may produce when in a zone.
Gain awareness about how they feel and think when another child produces expected verses unexpected behaviours when in a zone.
We all have thoughts and feelings about others' expected and unexpected behaviours in specific situations.
Have you ever thought about how someone's expected or unexpected behaviours impact on how they respond to a person?
Review a 'Thinking and Feeling about expected behaviours' worksheet.
It usually shows the observers of the behaviour to have positive (happy) emotions and positive (happy) thoughts about the child's behaviour.
Repeat for unexpected behaviour – where observers tend to have negative (uncomfortable) thoughts of a child's behaviour.
The sheets below have two completed examples to share and discuss then your child can have a go at completing their own for their own scenario- or use the picture situations on the last page as a prompt.
Maths:
Today we will be looking at place value of numbers 11-20.
Can you write the numbers on to pieces of paper/card and order them? Can you read and write the numbers in words as well as numerals?
There is a short power point presentation below to look at and an accompanying worksheet to complete.
Phonics:
In class we will be consolidating or, ar and air.
We will be sending home words with the sounds ou, oy and ir to revise by reading and adding the dots and dashes to them. This sheet can be found below.
Art:
Monday: This afternoon we will be continuing to look at the 'Starry Night' by Van Gogh and we will be having a go at re-creating the whole piece in pastels. We will be aiming to show his use of line and think about the direction and movement of the marks we make.
Tuesday: We will be using paint to re-create the artwork below. At home, have a go using whatever resources you have available.
Here is a copy of the art work, for you to copy at home: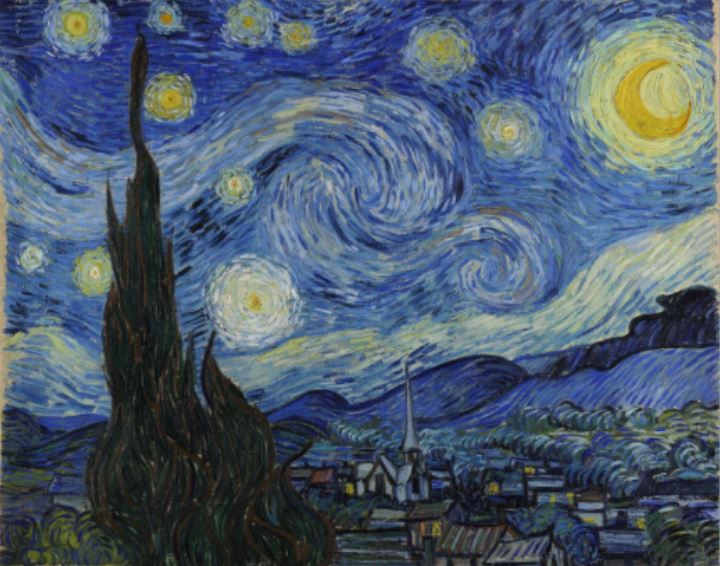 Below are the spellings for this week (we are on week 4)- it is dated:
Also, you could spend approximately 30 minutes on Nessy Spelling- you should have your log-in details at home. A paper copy was sent after your parental consultation evening and the SENCo emailed the details at the start of this half term. If you have difficulty logging in, please email us and we will try to help.
TUESDAY 24th NOVEMBER 2020
Literacy:
In class today we will be reading the story 'How to Catch a Star' by Oliver Jeffers.
We will listen to the story and then order some pictures from the story together.
We will be thinking about time connectives and using these words to help us sequence the story in our retellings.
There are some picture prompts below to help you and a list of time connectives (for example, first, next, then, after that....)
Your task is to retell the story by writing it in your own words.
Try to use some time connectives and remember capital letters, finger spaces and full stops!
Here is a video of the story being read so you can listen to it at home:
Here is a short film based on the book. What is the same? What differences do you notice?
Maths:
Today we will be ordering the numbers to 20.
There is a powerpoint presentation to have a look at and some linked work sheets.
There are also additional ordering sheets that you might like to have a go at, if you would like to do some extra work!
Art (See above in the Monday art section)
Music:
In school we have also started to listen to some of the songs for our Christmas Nativity play.
Here are some links so you can have a go at home too!
Wednesday 25th November
We will begin our day with PE at school.
At home, you might like to select a yoga session from the Cosmic Kids website. The link is:
RE/Literacy:
We will be talking about acts of kindness and what we can do during Advent to be kind to others.
We will be writing our ideas down inside a card bauble to hang on a class Christmas tree that will become our class Advent calendar.
Each day we will open a new bauble and we will all try to carry out that act of kindness during the day.
At home, you could write your own idea for an act of kindness to do during Advent.
Below, you will find a prompt sheet with some examples of acts of kindness.
Maths:
We are continuing to talk about teen numbers.
Today we will be counting the tens and ones in the numbers.
There is a powerpoint presentation and a linked worksheet below.
Phonics:
If you have not yet completed the phonics sheet below, it would be coming home today, so you might like to have a go at adding the sound buttons to the words on the sheet.