Week beginning Monday 16th November 2020
Monday 16th November
It is Anti-bullying week and even if you are at home, you can show your support by wearing some odd socks! This is to show that everyone is different but we are all equal. In class we will be talking about how we are all unique and celebrating our differences. There is a Power point presentation below to introduce 'Anti-bulling week' - the focus this year is 'United against bullying'. Andy Day and the Odd socks have put together another song for 2020 and the link is below if you would like to listen to it, it is called 'The kids are united':
https://www.youtube.com/watch?v=c6hR6rTHFSk
Linked creative tasks (we will be completing these in the afternoon)
There are some sock templates below for you to design your own odd sock patterns.
You could also design and make your own anti-bullying wrist band.
Could you use different shapes as part of your patterns?
Also, this morning we will be continuing to talk about our zones of regulation.
How are you feeling this morning? Which zone would you put yourself in and why?
The following might help you at home to discuss the different zones:
When you are in the blue zone- your body is running slow, such as when you are tired, sick, sad or bored.
The green zone- like a green light- you are 'good to go'. If you are in the green zone, you may feel happy, calm and focused.
Yellow zone- proceed with caution and slow down! The yellow zone describes when you start to lose control such as when you are frustrated, overwhelmed, silly, wiggly, excited, worried, anxious or surprised.
It is a good idea to use caution when you are in the yellow zone.
Red zone- reserved for extreme emotions such as terror, uncontrolled anger, aggression and elation.
When you are in the red zone, you are out of control, have trouble making good decisions and must STOP.
Last week we looked at the book- "The Way I feel" and the link is below. It might help you think of different emotions.
https://www.youtube.com/watch?v=ITPUxVQ6UIk
Can you write some sentences about which zone you are in and why?
Remember to use capital letters at the start of your sentences and full stops at the end. Keep clear finger spaces between your words, too!
Phonics for this week:
Think of words with the sounds: 'ou'- shout it out and 'oy' - toy for the boy!
Can you write the words and draw pictures?
Can you make up some alien words with these sounds?
Below you will find the phonics sheet that would come home on Wednesday. It reinforces the sounds we looked at in class last week- ar, or, air.
Maths:
Today we will be finding out about 3D shapes.
There is a link for a song below that helps you identify the key properties of the main shapes we are looking at: cube, cuboid, cone, sphere, cylinder
'These are the 3D shapes that I know!' link to song:
https://www.youtube.com/watch?v=2cg-Uc556-Q
There is a power point below about 3D shapes to look at and some linked sheets.
Can you go on a 3D shape hunt around your house and draw the different shapes that you identify?
Handwriting:
We will be working on the 'long ladder letters'- l, i, t
Can you keep the letters the appropriate size and sit them on the line?
Tuesday 17th November 2020
Spellings:
Our spellings this week are- moon, boom, tooth, hoop, book, look, are, was
(You might like to print off the sheet below to work on them at home- or maybe you prefer a brush and water outside, chalk or rainbow write them. You could even make the words out of Lego bricks...)
Maths:
We will be continuing to look at 3D shapes and today we will be sorting them into groups.
There is a power point presentation below to look at and some linked sheets to have a go at.
PSHCE/Writing:
As part of our anti-bullying week we will be exploring 'differences' by returning to the book we looked at last half term.
Initially we will talk about how we are the same and then how we are different to Beegu?
For example, we have 2 eyes/ she has 3 eyes, she has long ears/ we don't...
There is a video link to the book below.
The children will be asked to look at the pictures of Beegu throughout the story- what does she look like when she is happy? What does she look like when she is sad? (Look closely at her ears)
What makes Beegu happy?
For example, when people are nice to her, when people play with her, give her attention...
What makes Beegu sad?
For example, when people are unkind to her, ignore her, don't play with her...
Our next discussion will be:
*Imagine Beegu joins our class as a new pupil. She looks different and comes from somewhere different. How would you treat her? How would you behave?
Ie, let her play my games. Ask her to show me what she likes to play. Make her feel welcome. Smile at her…..
Now write sentences about how you would treat Beegu as a new member of the class.
PART 2
What would you not do?
Discuss how Beegu would feel if people were unkind to her because she looked different and spoke differently.
Share anti-bullying powerpoint. (See link below- 'What is bullying and how can we stop it?)
Phonics:
Today we will focus on words with the 'oy' sound.
Can you write down and add sound buttons/ read the following words:
toy, boy, boys, royal, Roy, enjoy, oyster
Handwriting:
We will be writing the following letters with care and good awareness of size and spacing- thinking about starting at the top: i, l, t. Can you complete patterns: iil iil iil ttl ttl ttl lit lit lit
Art: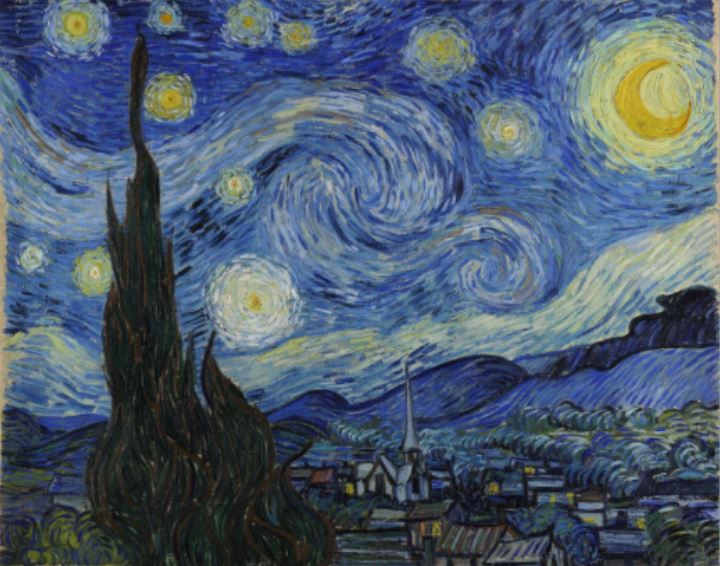 Have a look at the famous painting above, 'A starry Night' by Vincent Van Gogh.
Look at the different lines he has made. Have a go at re-creating some of the lines- short strokes, making straight lines, wavy, swirly or curved lines.
In class we will be using pencils, pen and pastels to recreate his lines in different ways. Use whatever resources you have at home to have a go too.
Here are some simple line drawings as examples. You do not need to do the whole painting. Select different parts, for example- you could simply create a study of the moon and the marks made around the shape.