Week Beginning 8th February 2021
Please click on the links for individual days on the left.
Topic Homework:
Usually, we give a little bit of time each day in the last week of each half term to sharing topic homework.
As you have all been doing lots of home learning this half term- it was not compulsory! However, if anyone has spent some of their time on one of the homework tasks for this topic, we would love to see what you have created.
Each day this week, we will work through an alphabetically ordered list (first name) and after each Zoom meeting we will invite 2 children to share their homework- if they have done it and would like to share it. They do not have to if they do not want to. Or they might like to share their best bit of home learning from the last few weeks if they have not completed a piece of topic homework. It will be their chance to share, if they want to.
This way we can share the work of 6 children each day if they would like to tell the class about what they have been working on.
We look forward to seeing and hearing from anyone who would like the opportunity to tell the class about their homework.
This was the planner, for your reference: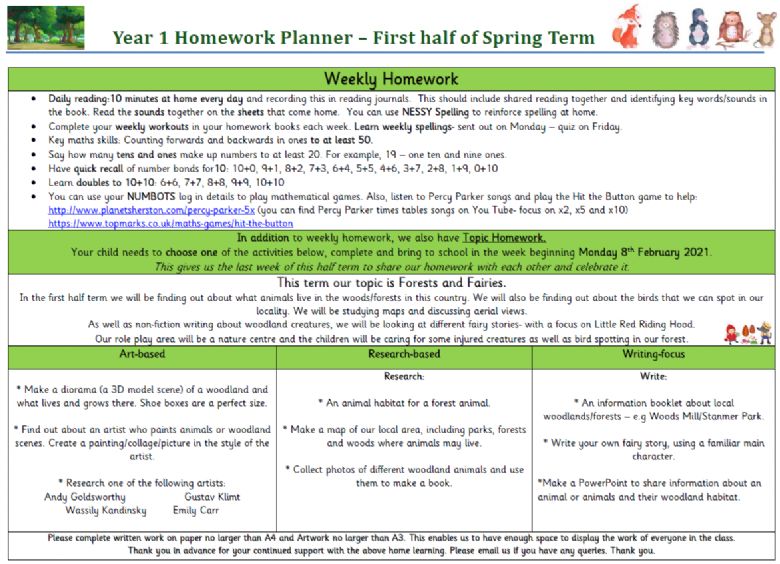 In addition to the work set on the individual pages for specific days, please try to complete the following each day:
Reading- 10 minutes daily
As it is the last week of half term- we would usually update our assessments. It would be really helpful if you could please ask your child to read the 45 key words on the attached sheet and let us know how many they are able to read now. If we informed you at parental consultation evening that your child already knew all 45 words then you do not need to do this. Thank you.
Here is a reading comprehension about British wildlife, if you would like to have a go at it at some point over the week- it is optional:
Spelling- learn daily and quiz on Friday (the usual spelling lists are attached below)
Handwriting- work on particular letters that your child needs to learn
Across the week you might like your child to spend some independent time on the following:
Nessy Spelling
Numbots
Phonics Play
Teach your Monster to Read
Thank you for your continued support at home.