5th March Friday
Good morning Year One!
Today is the last day of home learning! We are really looking forward to seeing everybody back at school on Monday. Make sure you continue to work hard today. Here is the learning for today.
Active Start:
RE- Preparing the special meal for the parish family.
Zoom- 9:30am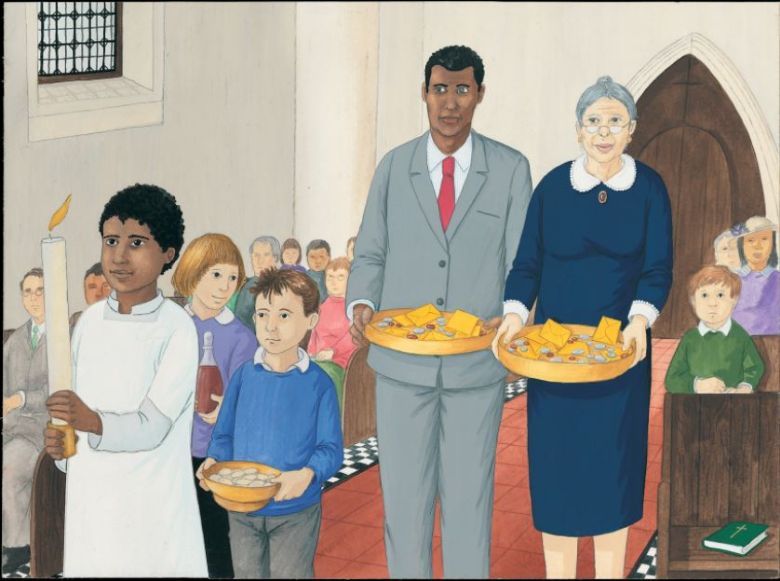 Look at the picture above and read the following story:
Last Sunday, when I went to church with Dad and Grandma, Mr Sheridan asked my friend Clare and me if we would take up the gifts of bread and wine to the altar in the procession of gifts. I had never done it before and I felt quite excited. When the time came, I held the dish with the altar breads, which are called hosts, and carried it very carefully. Clare carried the wine and Mr Sheridan and Grandma took up the collection. Father James smiled at me. "Thank you, Clare and Tom," he said. When I returned to my seat, I watched Father James offer the gifts and listened as he asked God our Father to bless the bread and wine that would become Jesus for us. We all replied, "Blessed be God forever."
Key Questions:
1. What is the food and drink for the special meal?
2. What did Father James do with the gifts of bread and wine?
3. What did the people reply?
Task
Your task is to write a prayer for a special meal. Below is the prayer we say at school before lunch. Use this to help you with ideas for your own prayer.
Bless us O Lord, as we sit together,
Bless the food we eat today.
Bless the hands that make the food,
And please help us give food to the hungry.
Amen
You can write your prayer straight into your book or you can print this paper to write on. There are three pages- each with a different picture.
Paper to write on- meal prayer
Maths
Today, we will be subtracting lengths.
Here is a copy of the video to reinforce the learning at home, if you would like to.
Here is a worksheet that reinforces the learning for today. Please complete as much of the sheet as you can. There is also an answer sheet provided for you to check your answers and mark your work.
Phonics
***There will be no phonics zoom today***
We have reviewed the following sounds this week:
ire- Fire! Fire! (fire, hire, spire)
ear- hear with your ear. (hear, fear, dear)
ure- sure it's pure! (sure, cure, pure, picture, mixture)
Can you write a sentence using a word from each sound? Look at each sound. Choose a word. Write a sentence.
Zoom- 1pm- Worries and Feelings
This afternoon we will talk about how we are feeling about returning to school. We will talk about any worries that children might have. Join us if you can.
Here is a short meditation to end your day with.
We would like to say a huge THANK YOU to all the children for working so hard! We are looking forward to seeing everybody back at school next week. Have a lovely weekend.