4th March Thursday
Good morning
It is World Book Day! A day where we share the LOVE OF READING! Today we will be sharing our book character costumes and/or potato characters. We will also be sharing a story and doing lots of World book day activities. We hope you enjoy the day.
Active Start
Why not start your day by going on a bear hunt with Jamie in the Cosmic Kids Yoga adventure.
Literacy
Zoom- 9:30
Today we will be sharing our favourite book day costumes/potato characters and talking about our favourite books. We will also be doing a book quiz. How well do you know fairy tales?
Task
Write two sentences to tell us about your character that you dressed up as.
For World Book Day, I dressed up as...
I chose this character because...
You can write your sentences straight into your book or you could print out the sheet below.
If you didn't dress up as your favourite book character, tell us about your favourite book.
My favourite book is...
I like this book because...
There is also a reading comprehension task linked to World Book Day if you would like to have a go. There are three different levels- choose the one most appropriate for you. Answers are included.
Handwriting
Today we will continue to reinforce the correct letter formation for – c o a g q
Only move on to the pre-cursive formation if you are accurate and confident in the correct formation of these letters.
Spellings:
Please continue to learn your spellings for Friday:
fire, spire, wire, hear, fear, spear, school, house
Maths
Today, we will be adding lengths.
Here is a copy of the video to reinforce the learning at home, if you would like to.
Here is a worksheet that reinforces the learning for today. Please complete as much of the sheet as you can. There is also an answer sheet provided for you to check your answers and mark your work.
Here are some optional adding length word problems.
**THERE WILL BE NO PHONICS ZOOM AT 1PM TODAY. INSTEAD WE WILL SHARE A STORY TO CELEBRATE WORLD BOOK DAY**
Zoom- 1pm- Share a story
Join us as we share 'The Hueys in the new jumper' by Oliver Jeffers.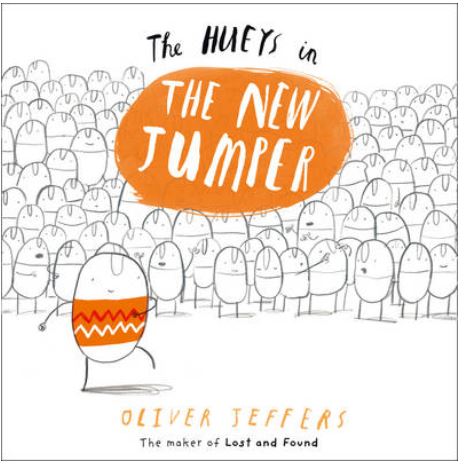 For the rest of the afternoon have fun doing something for World Book Day.
Watch the World Book Day Rap.
Why not listen to a video story together. Click the link below.
There are many other activities on the World Book Day website. Please have a look.
World Book Day activities and resources
Or you could choose from one of the activities below.
We hope you had a good day. See you all tomorrow.