4th February Thursday
Active start:
Here is a Cosmic kids yoga session that you might like to start your day with at home:
RE: Special People Liturgy
Zoom 9:30
If you are not able to join us for our zoom session, please follow the steps below to have your own liturgy at home. The part in bold you can say out loud.
Gathering Together
You might like to set up a focus table with some pictures of the people who are special to you and the candle that you made last week.
We gather In the name of the Father and of the Son and of the Holy Spirit Amen.
Think quietly about the special people to you- someone in your family or another friend or even a special grown-up who helps you. What makes them so special? How do they help you? Now breathe in as you picture your special person and as you breathe out, say in your head, "Thank you God for..."
We also thank God for all the special people in our parish family, our priest, altar servers, readers, ministers and everyone who welcomes us to the parish family.
Listen to the story told by St. Luke of the first time that Jesus was taken as a baby to the Temple by Mary and Joseph.
A reading from the Gospel of St Luke.
Mary and Joseph took Jesus to the Temple. He was their baby boy and they wanted to thank God for him. At the temple they met an old man called Simeon. He was a good and holy person. He often went to the Temple to pray. Simeon took Jesus in his arms and praised God. He said, "This baby will bring light and joy to the world." Mary and Joseph were very surprised by Simeon's words and didn't understand what he meant at the time. Simeon blessed them.

After that they met Anna. She was 84 years old and spent all her time in the Temple praying. She said a thank you prayer to God for Jesus and told everyone that he would bring happiness to everyone who loved God.
Mary and Joseph took Jesus home to Nazareth where he grew up and learned to praise God.
The Gospel of the Lord
Praise to you, Lord Jesus Christ
Response to the Word
Now think about Simeon...how happy he was to see this special baby! Close your eyes and imagine what his words mean...can you picture baby Jesus (shining like a light for everyone to see...or the happy faces of Simeon and Anna as they look at the longed for baby)
Join in a litany (prayer) together thanking God for Jesus-with-us-now. The response is Thank you God.
For Mary who cared for Jesus- Thank you God
For Joseph who looked after Jesus- Thank you God
For Simeon who gave thanks for Jesus- Thank you God
For Anna who was happy to see him- Thank you God
For our parish family of St. Peter's, Holy Family and St. Theresa's- Thank you God
For the special people in our lives- Thank you God
For Jesus who loves us all- Thank you God
Going Forth Task
Think about how we can bring light and joy to the people around us, the special people in our lives and our parish family. We would like you to make something for someone who is special to you. Perhaps you could make a card or write a letter. Why not ask your grown up if you could call someone who is special to you.
In the name of the Father and of the Son and of the Holy Spirit Amen.
Handwriting:
Please continue to focus on forming any specific letters you might still need to work on.
If you are forming all letters correctly, we would like you to work on the accurate writing of your name. This can either be just your first name or surname too.
Check that each letter:
*starts and ends in the correct place
*is on the line
*has a clear ascender going up to the red line (if needed)
*has a clear descender going down to the red line (if needed)
*is a consistent size and shape
Can you write your name, remembering all of the above, at least 3 times?
Use you handwriting book to help you with size and spacing.
Spellings:
Please continue to work on your spellings for this week:
brown, down, clown, train, wait, snail, come, some
Maths:
Zoom 11:00
Today we will be comparing numbers within 50. Here is the video that links to our session today. And below you will find the main worksheets.
If you would like a challenge, try the reasoning and problem solving questions below.
Here are some deeper thinking activities if you would like some further challenges. Remember these are optional.

Phonics:
Zoom 1:00
We will be revising the split vowels: a-e make a cake and i-e nice smile, o-e phone home and u-e huge brute.
For example- make, same, flame/slide, like, slime/ bone, drone, globe/ rude, flute, June.
Have a go at matching the picture with the correct word. There is two ways you can do this activity.
1. Cut and stick the pictures and matching words into your exercise book.
2. Play a matching/memory game. Flip over all the cards. Then flip over two cards. If they match, you keep the cards. If they don't match, you put them down and try again. Continue until all the pairs are matched correctly.
Zones of Regulation
How did you get on last week with creating your zones check in at home? Hopefully you are using your check in to see which zones you are in.
This afternoon we will learn some calming techniques that will help us to relax our minds and bodies. These calming techniques will be tools that may help you to calm down when you are in the Yellow or Red Zone.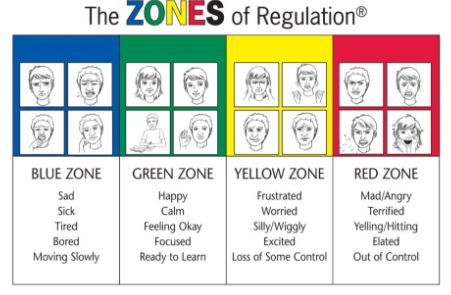 Before we start...
Let's think about the Green Zone. In the this zone we feel happy and calm.
How do you know you are calm?
What do you look like?
How does your body feel?
Now we will learn and practise some calming techniques. The calming techniques we will learn are: The Six Sides of Breathing, Lazy 8 Breathing and Calming sequence. Below you will find instructions and visuals for each of the calming techniques. Have a go at trying each of the calming techniques. **You can use these techniques throughout the day, whenever you need to. **
Finally...
Join Jamie in the Zen Den! Or continue to practise one of the calming techniques!
Thank you for working hard today!