4 w/b 21.3.22
Reading - Read your stage book at home. If you are on Accelerated Reader you can quiz on your book with this link (when you have finished your book).
Spellings -
Rainbow words - Write out your spellings in different colours. Can you make a pattern? Write out each word at least four times.

Making up sentences with your spellings in - With a grown-up and make up sentences with your spellings in. You or the grown up need to write these down. You can have more than one of your spellings in the same sentence, but every spelling needs to be covered. Keep these safe for the next activity.
Dictated sentences - A grown up can read out the sentence to you made up in the previous activity and you write it down. Can you get the spellings and the other words in your sentences correct?
Quizzing - On Friday, grown up will read out your spellings and you write them down onto a piece of paper. Check your spellings with your grown up. How many did you get right or which words to do you need to practice more?
Monday morning E4S - Education for Safety (see attachments also)



Literacy -
Wednesday - Plan your own Traction Man story. Your story needs to take place in the Rainforest. See the attachment below to help you. You can try sticking small pieces of paper or post-it notes onto the squares. Will you use Traction Man or the action figure you made up in class? Who will be the villain? What bad thing does the villain do? How does Traction Man save the day?
Thursday - Write the opening and build up to your story. Try to write your story in the present tense e.g. Traction Man is in the leafy, overgrown rainforest. He is wearing his camouflage trousers, sleeveless top and hiking boots. Aim for at least seven sentences. You do not need to do this all in one go! Try writing the opening first, have a break and then write your build-up. Look at the attachment below if you'd like to write your story in a book format.
Friday 1 - Write the problem and resolution to your story.
Friday 2 - Spelling quiz
Maths - We are continuing our learning about Shapes. Please see the attachments below.
Maths Monday - Sorting 2D shapes
Maths Tuesday - Patterns with 2D shapes
Maths Wednesday - Count faces on 3D shapes
Maths Thursday - Count edges on 3D shapes
Maths Friday - Play on Numbots for at least 15 minutes. Now watch some of the times tables videos on the Year 2 learning videos page. Practise your x2, x5 and x10 tables. Play the Hit the Button game to help you practise. Write down your scores. What is the highest score you can get for each times table?
Foundation Subjects
Monday afternoon PE - Tag Rugby. Today we will be practising weaving and changing direction quickly to help you avoid children stealing your tags!
Tuesday afternoon Art - We are doing Press Printing at school this week. Can you try some Potato Printing at home?
Wednesday afternoon Science - Habitats. With a grown-up, read the fact sheets about habitats. Now, look at the local habitat map attachment. Think about where you live and draw a small map of this e.g. if you have a garden or local park (at school we will just be focussing on the school playgrounds and field). Think about where there are plants and put these onto your map. If you are thinking about a local park, you could use Google Maps to help you. Where would you find animals living in this place? Put these onto you map. Now add on detail about things that are dead, living or have never been alive for example has a metal climbing frame ever been alive? Write these things into the correct column.
Thursday afternoon PE - Tennis - Today we are starting out learning about Tennis. Practise throwing and catching a ball in the air (use a tennis or smaller sized ball if you have one). Can you catch the ball with two hands and then with one hand? If you want a challenge try using alternate hands to catch the ball. How many times can you throw the ball without dropping it?
Thursday afternoon - Handwriting - Practise handwriting in 15 minute chunks. We are working hard on correct letter formation. If you are not sure about this check the handwriting mat image below and the links on this page.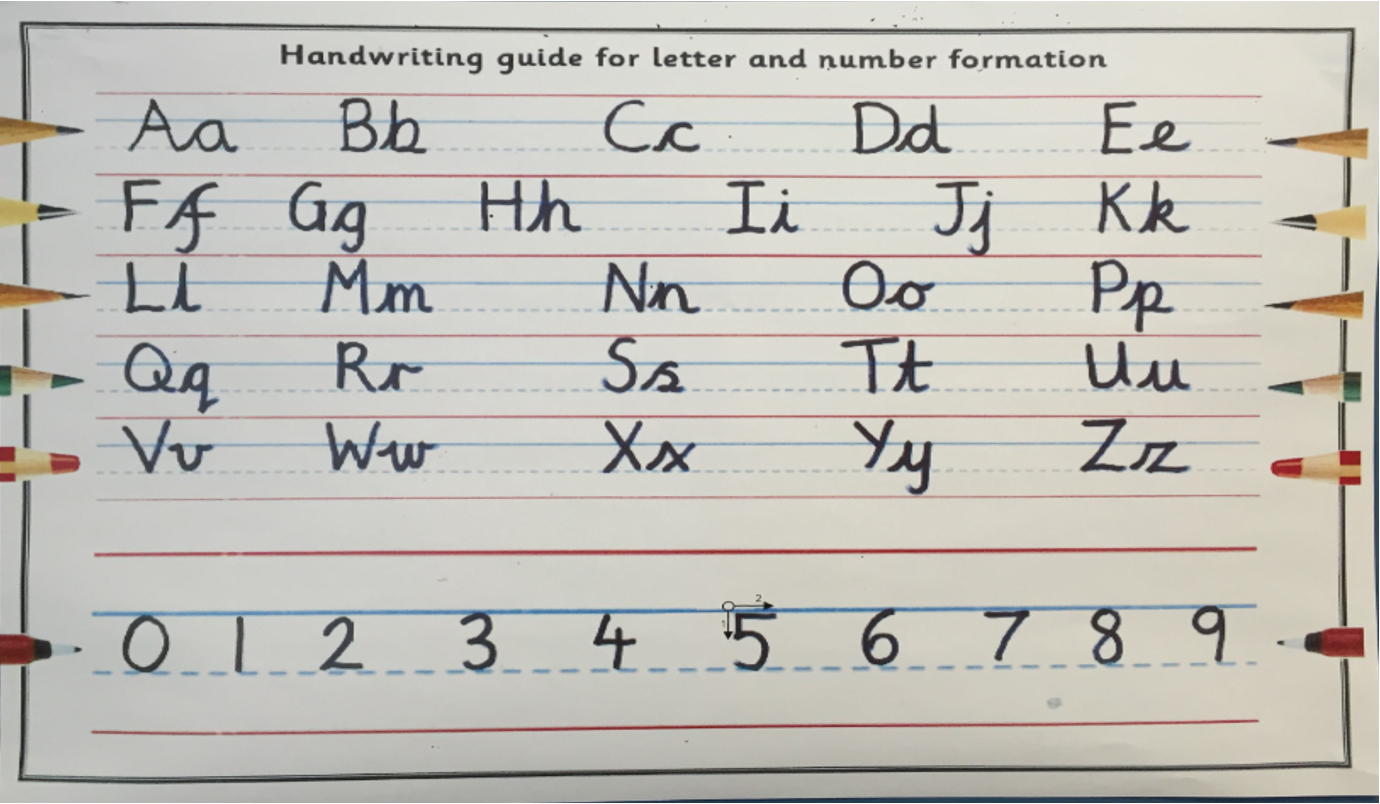 First try writing individual letters. Practise writing letters from one handwriting family at a time, as the letters in the same family are written in a similar way. Remember that we do not loop our letter g, j, f or y.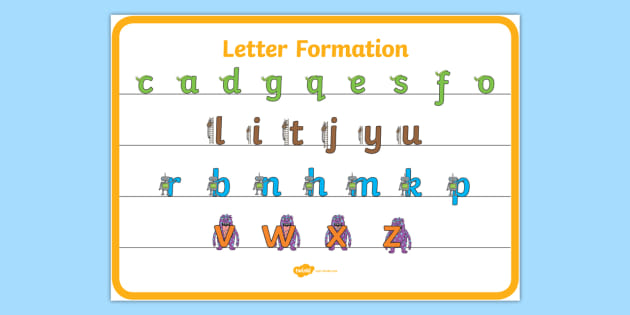 If you can form your letters correctly could you challenge yourself by writing your name, and one or two facts about you in y