3rd March Wednesday
Reading:-
This week's text is:-
My first encyclopedia of Dinosaurs.
Please read your own book for 15 minutes today. Don't forget to record it in you reading journal
Maths
Zoom lesson 9.00 – 10.00
Today we are:-
Learning to sort 2D shapes
Now that we know the names of the 2D shapes and we know what the words 'sides' and 'vertices' mean, we can group them in different ways.
How are these grouped?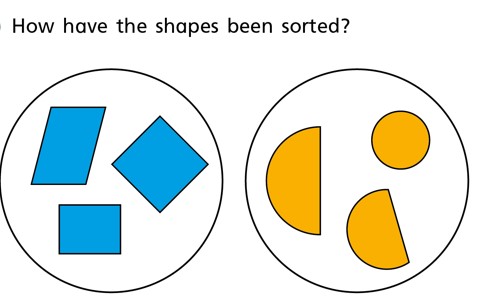 Complete the sheet and try the challenge by cutting up the shapes and making several different patterns. Remember, the shapes don't have to be in a line, they can be arranged however you like, as long as the pattern is clear.
Literacy
Zoom lesson 10.30 – 11.30
Today we are learning to:-
Plan a fact page.
Continue to research and collect the information you need for your fact page. Make sure it is written on your planning sheet, reading for when you make the fact page tomorrow. Maybe you could print out a title and an image, ready to use tomorrow.
P.E.
Can you do:-
20 star jumps
Run on the spot for 20 seconds, take a break and repeat. Do that 5 times!!
Sit down on the floor and get up again and jump with your hands in the air. Repeat 10 times. Now put your hand on your heart. What do you notice/
Remember you can try the activities for virtual games too.
https://primarysport.shoreham-academy.org/new-page