3 w/b 17th January
Reading - Read your stage book at home. If you are on Accelerated Reader you can quiz on your book with this link (when you have finished your book). There are also some Victorian reading activities this week.
Spellings - Wrong, write, wrote, wrap, wrist, wriggle, her, his, is and she.
Rainbow words - Write out your spellings in different colours. Can you make a pattern? Write out each word at least four times.

Making up sentences with your spellings in - With a grown up make up sentences with your spellings in. You or the grown up need to write these down. You can have more than one of your spellings in the same sentence, but every spelling needs to be covered. Keep these safe for the next activity.
Dictated sentences - A grown up can read out the sentence to you made up in the previous activity and you write it down. Can you get the spellings and the other words in your sentences correct?
Quizzing - On Friday, grown up will read out your spellings and you write them down onto a piece of paper. Check your spellings with your grown up. How many did you get right or which words to do you need to practice more?
Monday morning Education 4 Safety (E4S) - Listen to the story Ruby's Worry. What happened when Ruby didn't talk to anyone about her worry? What worries do you have? What can strategies can you use when you feel worried? Could you talk to a grown up or a friend? Hug soft toy or have a big drink of water? See the attachment below.
Literacy
Literacy Tuesday - The dragon egg has just hatched! It has got a cold, and it keeps sneezing and setting fire to tissues in Mrs Herbert's house! Don't worry, I did a lateral flow test and the dragon hasn't got Covid. Can you write a letter to the Fire Service to ask for their help? What questions do you need to ask? Make sure you explain what has happened. See the attachment below.
Literacy Wednesday - Continue writing your letter to the fire service.
Literacy Thursday - Self-marking. Can you recognise what you have done well in your letter and what you need to improve? Have you remembered capital letters and full stops? Have you used black pen to correct any spellings? Have you explained why you need help from the fire service? Have you used connectives like because, and or but to add detail to your sentences? Have you used question marks and exclamation marks? Write down one thing you have done well in your letter and one thing you need to improve?
Literacy Friday - Spelling quiz
Maths - We are continuing our Multiplication and Division Learning this week. Please see the attachments below.
Maths Monday - Multiplication sentences from pictures
Maths Tuesday - Use arrays
Maths Wednesday - Watch these videos to jog your memory. Halving song, Doubling song. Play the doubles and halves game on Hit the Button to practise remembering your double and halves quickly. Try up to 10 first, then 10 to 20. If you are really good at these, try up to 50. If you're finding this tricky watch this video and have a go at the attachment below.
Maths Thursday - 2 times-table
Maths Friday - Play on Numbots for at least 25 minutes. You do not need to do this all in one go. You could try 15 minutes, have a break and then do another 10 minutes.
Foundation Learning
PE Monday - Basketball - Can dribble a ball? Start off using two hands at the same time. When you are confident at dribbling with two hands, try bouncing the ball with your writing hand, then try your non-writing hand. As a final challenge can you dribble the ball with alternating hands? How many times can you dribble the ball without it stopping? Each time the ball hits the floor count one number higher. Can you get to 50 or even 100?
DT Tuesday - Research Chinese food. Watch this video to help you get started. Can you find some photos of some Chinese food you would like to eat and label them with their names? Remember to ask a grown-up before going on the Internet and tell a grown-up straight away if you see something that worries you. What foods do they eat a lot of? What utensils do they use to eat their food?
Wednesday - Continue working on your China topic homework. Check the Knowledge Organiser below. Do you understand all of the vocabulary? If not, ask an adult to help you. This is our favourite song about China at the moment. On Wednesday afternoon, you also need to practise your handwriting. We are starting to think about using joined up handwriting now. Make sure you start on the left-hand side of the letter and finish on the right; it's really important otherwise you'll get into all of a pickle when you try to join up!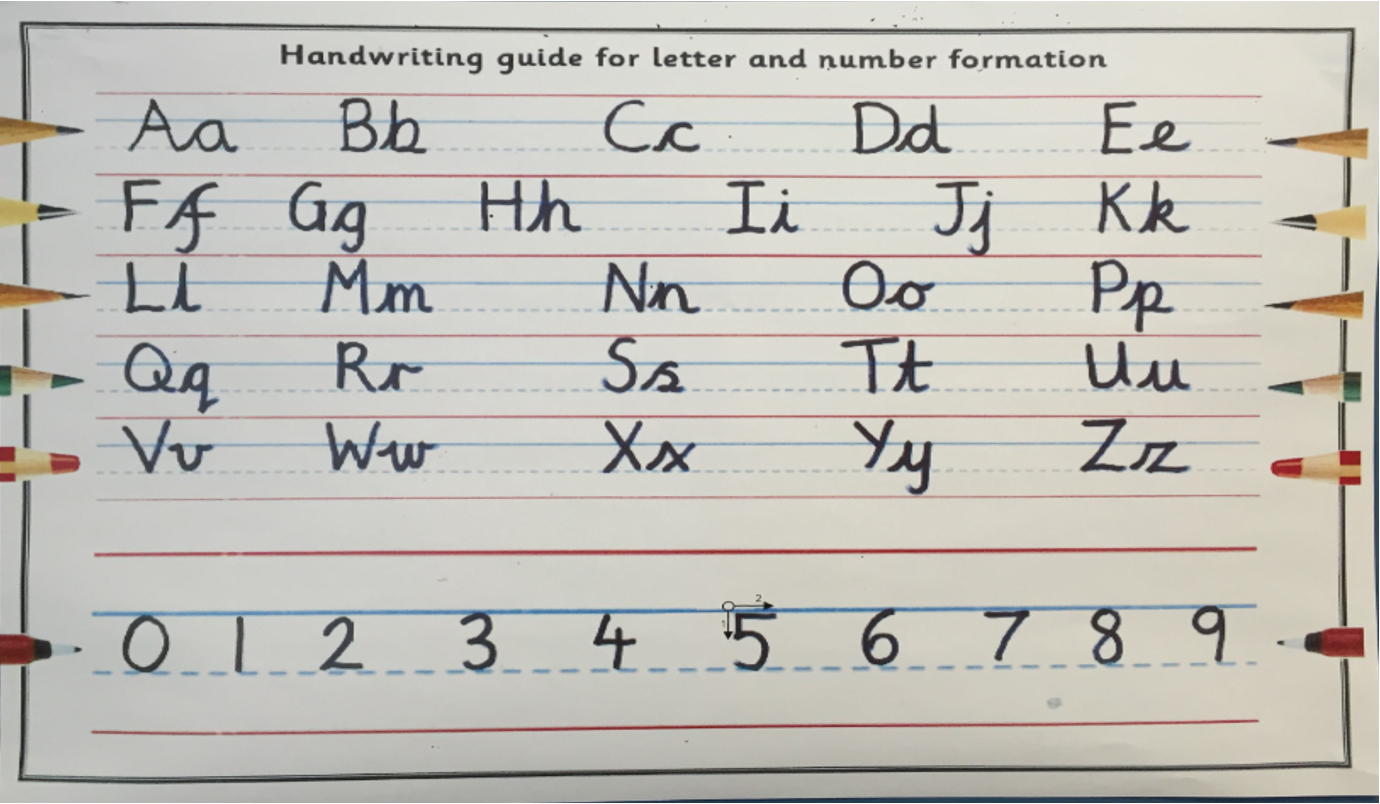 PE Thursday - Gymnastics - Can you practise your tuck, pike and straddle positions. If it is safe to do so at home, practise balancing. Can you make up some balances with 1, 2 , 3 or 4 points. Points are where a part of your body is touching the floor. Make sure you can hold each balance for 5 seconds.
Friday - Geography Making Challenge - Can you make a model of our school? You could junk model, use construction toys etc.