2nd March Tuesday
Good morning,
We hope you enjoyed your home learning yesterday and are ready for today!
Active start:
Here is some yoga for you to get your body ready for the day. It is slightly longer than the usual yoga sessions (24minutes) so you might prefer to do it in two sessions throughout the day:
Literacy:
After completing our fairy garden yesterday, we are awaiting a special visitor. We will find out today if we have been successful in enticing any tiny guests to our classroom!
All will be revealed in our Zoom session today...
If we have not had a visitor we will be editing some sentences for capital letters and full stops!
Watch this space!!
UPDATE!
This morning when we arrived at school, we noticed that something strange had happened. We will tell you all about it later at the Literacy Zoom (9:30)
*If you can't meet us for the Zoom at 9:30, for your writing task today, please write some sentences about why you think a fairy should visit our class. Can you use the word 'because'?
*Remember capital letters, finger spaces and full stops.
Handwriting:
Today we will be reinforcing the correct letter formation for - s and f
Only move on to the pre-cursive formation if you are accurate and confident in the correct formation of these letters.
We will model the pre-cursive formation for 'f' at the end of the Literacy Zoom.
Spellings:
Please continue to learn your spellings for Friday:
fire, spire, wire, hear, fear, spear, school, house
Maths:
Today, as part of our work on measuring, we will be introducing how to use a ruler accurately. We will start measuring with standard units - centimetres (cm).
Here is a copy of the video to reinforce the learning at home, if you would like to.
Your task is to measure some objects at home with a ruler and record the measurements in your book.
After you have measured a few items- you might like to have a go at estimating and guessing how long some objects are.
Here is a table you could use if you would like to, or simply draw and write the measurements in cm straight into your book. One page has a column for estimates and one page just has the object and measurement column.
Here is an additional sheet to show you can measure accurately, it is optional:
Challenge, if you would like to have a go:
Phonics:
We will be reading and spelling words with the sound: ure- sure it's pure!
sure, pure, cure, picture, mixture...
Here are some sheets you might like to have a go at to reinforce the reading of words with this 'ure' sound. You do not have to complete them all. Pick the one or two that you prefer:
ICT:
Copying and pasting a picture into a document.
This afternoon, we would like you to use your knowledge of animal groups to search online for pictures of an animal from each of the main groups we looked at before half term- mammals, birds, fish, reptiles, amphibians, insects.
Here is a reminder of them in this song:
We would like you to copy and paste a picture from an Internet search into a document such as Word or Publisher.
Select an Internet search engine for example, Google or Bing.
Search for an image by typing the name of the animal you have chosen into the search bar.
Right click on the image and scroll down to select 'copy image'
(You might need to explain that not all pictures are able to be copied in this way so it could be that you have to try a few different pictures. You could also introduce the snip and sketch tool if you have it on your device.)
Click on 'paste' in order to insert your picture into your document.
Move your picture to the required position by dragging it.
Resize your picture as needed by clicking on the image and moving the corner to alter the size.
Can you label the animal group each picture belongs to?
Or maybe collect 2 or 3 pictures from some of the groups and organise them under simple headings. Here is an example in Publisher and Word:.
Publisher example Word example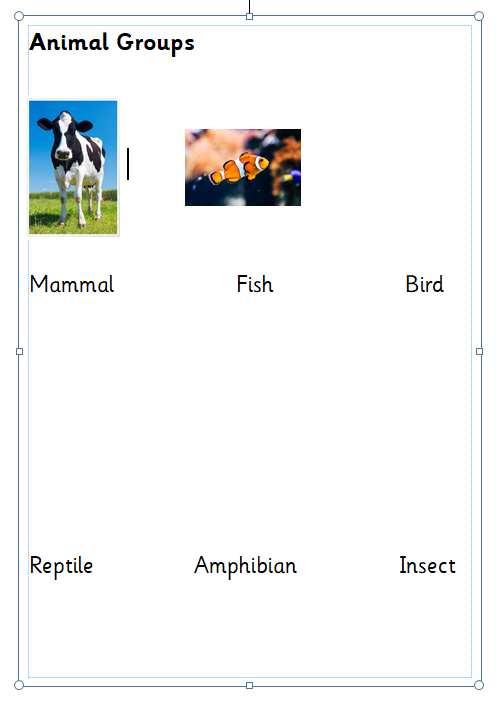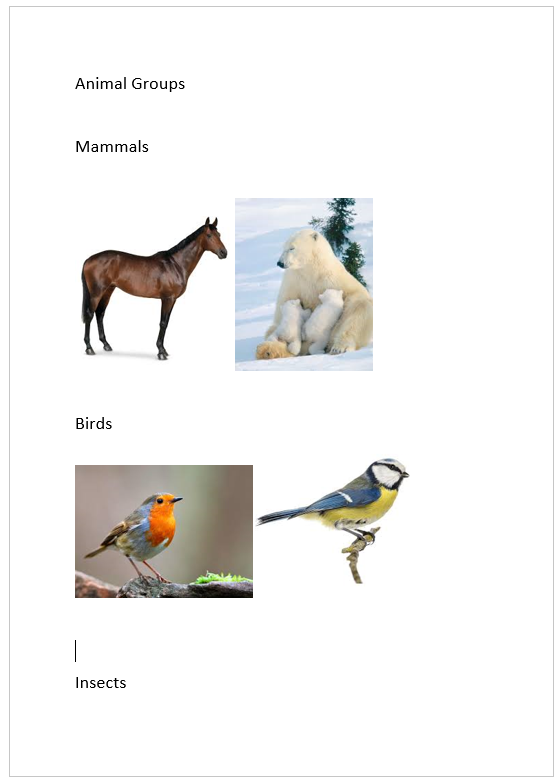 PLEASE NOTE: If you do not have access to appropriate devices in order to complete this task- please do not worry as there will be an opportunity in the Summer term to cover this skill.
Therefore, if you are stuck for a task this afternoon- please refer back to the Kandinsky work from last week and think of a different way to explore circles and squares.
Here is a video that shows you how to use pastels to create eye-catching concentric circles in squares. This could also be done using colouring pencils, felt tip pens or paint- whatever you have at home:
We would love to display all of the amazing Kandinsky artwork that has been created at home over the last week. Please do remember to send it in next week with all of your work from your home learning. We can't wait to see it!
We hope you had a good day and thank you for working so hard at home on your learning.