29th January 2021 Friday
Good morning! We have made it to the end of another busy week.
We will be starting our day with some yoga movements. Why don't you join us too!
RE: Special people
At the end of Mass, the priest gives everyone God's blessing and tells them to
"Go in Peace."
We all say: "Thanks be to God."
Look at the following picture. When we were able to meet in this way, people often like to stay and share time together and sometimes the parish family gathered together for refreshments.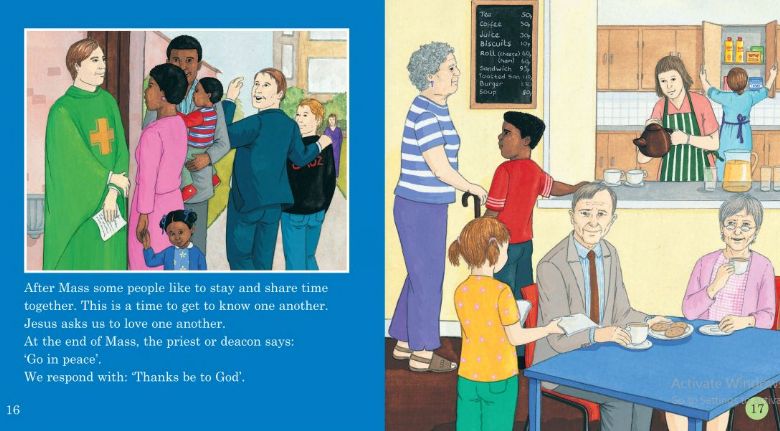 Key Questions:
Who do you see in the picture in the hall?
What special jobs are they doing?
What do you think they are talking about?
How do you think they are loving and serving Jesus?
Task
Using the picture above, talk about/write how people are loving and serving Jesus. There are three choices of activities. Please only do one.
1) Label the picture with what you can see.
2) Add some speech to show how the people are helping and serving others.
3) In addition to number 2, write a sentence to show how the people are loving and serving Jesus.
Spellings:
It's quiz time! See how well you know your spellings. Good luck!
blur, slurp, turnip, herb, fern, mixer, by, my
Nessy spelling- Try completing 10 minutes of Nessy spelling today.
Maths:
11 am Zoom session
Main session: Tens and Ones
You can use the link below to watch the video for today's learning.
Here is a worksheet that reinforces the learning for today. Please complete as much of the sheet as you can. There is also an answer sheet provided for you to check your answers and mark your work.
If you would like a challenge, please have a go at the reasoning and problem solving questions.
Phonics:
****THERE WILL BE NO LIVE PHONICS ZOOM SESSION THIS AFTERNOON. INSTEAD WE WILL BE HAVING A CHAT AND GAME ZOOM SESSION AT 1PM. ****
Today we are revising all the sounds that we have looked at this week:
ur- nurse with a purse
er- a better letter
ow- brown cow
ai- snail in the rain
Task
Sort the words under the correct sounds. Make sure to read the words carefully and decide which of the focus sounds are in the words. If you are not able to print, you could write the words out into your excercise books.
Fun Friday Zoom 1:00 pm
Please join us this afternoon for a fun zoom where we will play a game and chat with our friends. We look forward to seeing you there!
We hope you have a good day of home learning. Well done to all the Year One children for working so hard! We are very proud of you all!
Have a lovely weekend.