28th January 2021 Thursday
Maths:
We are doing a maths zoom at 9am. Please use the link in the email to take part in this.
Today we are going to be looking at working out how many different ways we can do things.
If you were unable to join the zoom, click on this link to watch a video on this topic:
and work through the powerpoint below before you try to complete the worksheet.
English:
We are doing an English zoom at 10:30am. Please use the link in the email to take part in this.
Today we are starting a new reading and writing topic. Our work is going to be based around Charlie and the Chocolate Factory.
We will begin today by reading chapter 1 and chapter 2.
https://www.youtube.com/watch?v=coGg0LMFKSE&list=PLNWB9LCZQNVyrtdPMKxuiMa3MiceL9j3j&safe=true
Task 1:
We are now going to think about similes.
A simile is a phrase where we compare something or somebody to something else.
Charlie's grandparents are described in Chapter 1 using similes. Here are some examples: 'as shrivelled as prunes' and 'as bony as skeletons.'
Your job today is to create a list of similes of your own to describe the grandparents. Have a look at the pictures below to help you visualise and create some similes. Be creative, think about comparing them to strange things. Use adjectives to help you as well!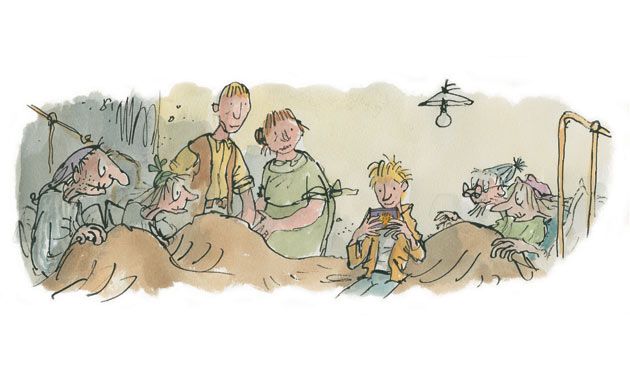 Task 2:
Imagine you could meet Grandpa Joe. Make a list of 5 questions you would ask him when you meet him. Think sensibly - ask questions about his life. We don't want to loads of questions asking what his favourite crisps/fruit/drink are!!
Topic/Computing:
This afternoon you are going to do some research and create a powerpoint or a word document poster to share lots of information about what life was like in Britain in the Roman times.
Try to find out:
Did the Romans change anything in Britain?
Did the Romans bring anything to Britain?
Did the Romans invent anything?
Below is a document with lots of information in.
Alternatively, have a look at these websites to do your research:
https://www.bbc.co.uk/bitesize/topics/zqtf34j/articles/ztqg4wx
https://www.bbc.co.uk/bitesize/topics/zqtf34j/articles/z2dr4wx
http://www.primaryhomeworkhelp.co.uk/Romans.html (look at the bottom of the page)
https://kids.kiddle.co/Roman_Britain
https://www.ducksters.com/history/ancient_rome/rome_in_england.php