22nd October 2021
Good morning! It's Friday and the last day of term.
We hope you are feeling well. Find below the tasks for today.
Warm up! Get ready for your day!
You might like to start your day with a Joe Wicks workout or a yoga session. Here are a couple to select from:
Literacy:
Today we will be reviewing the use of the apostrophe for possession.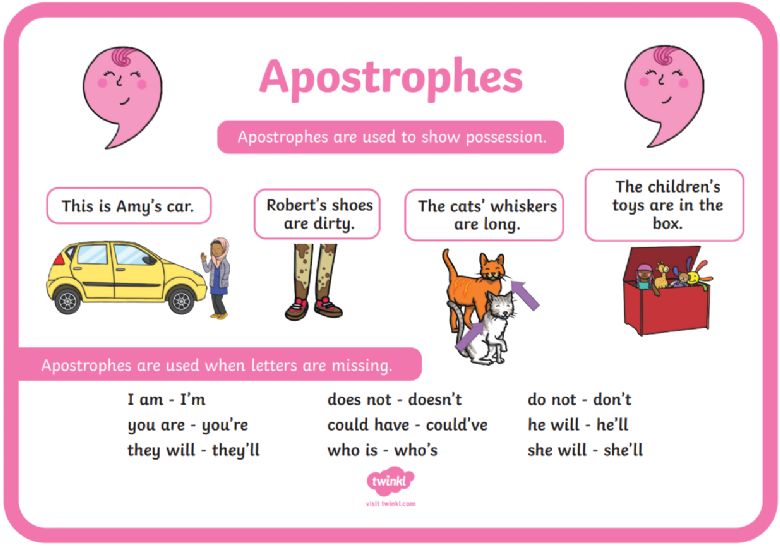 Rules
1. Use an apostrophe + 's' ('s) to show that one person/thing owns or is a member of something.
2. Use an apostrophe after the 's' (s') at the end of a plural noun to show possession.
3. If a plural noun doesn't end in 's', add an apostrophe + 's' to create the possessive form. I.e. Children's.
Warm up activity
Sort the singular nouns with apostrophes and the plural nouns with apostrophes into the correct group. If you are able to print, you can print off the sheet and either cut and stick the words into the correct column or write them out in the correct column. You will only need to print page 1 of the document. Page 2 has the answers. If you are not able to print, draw the table on a piece of paper and sort the words.
Main Activity
There are two options for the main activity. Please choose the option best for you.
Option 1- Look at the pictures showing possession. For each picture write a sentence to show the correct use of the apostrophe for singular nouns and plural nouns.
Option 2- Read the short passage. Find the words where the apostrophe has been used incorrectly. Re-write the word with the correct use of the apostrophe. Be careful! Some words are plurals and do not need an apostrophe. Find and make those corrections too. The answers are provided on page 2.
Spellings
Please ask a grown-up to test you on your spellings. Good luck. Let us know how you get on.
Reading
Try to read for 25 minutes today. Please remember to quiz on your book when you have finished it.
Maths
Warm Up
Complete the speed table challenge below. See how many questions you can answer in 10 minutes? 5 minutes?
Main Maths Session:
Today we are looking at using checking strategies to check answers. Here is a video that covers the main focus of our learning.
Here is a worksheet that follows up the main learning:
Here are the answers:
Attached below are some additional reasoning and problem-solving questions.
Reasoning and Problem-Solving Questions
Homework
In class, we will be marking our weekly literacy and maths homework. If you have completed the homework this week, you can mark it too.
Friday Afternoon Fun
Please use the time this afternoon to do something that you enjoy.
We hope you enjoyed today's learning. We hope you have a restful weekend and a wonderful half term. We look forward to welcoming you back on the 2nd of November.