20th January 2021 Wednesday
Wednesday 20th January
We hope you had a good day yesterday and enjoyed your home learning. If you have any work that you would like to share, please feel free to do so at the start of the Zoom meetings today.
Physical Activity:
Today there will be a live Joe Wicks workout at 9:00am or you might like to join in with the session from Monday by clicking on the link below:
Literacy:
Zoom 9:30am
Today we will be imaging we are Red Riding Hood going on a journey through the woods to Grandma's house.
We will write about what we saw, heard and how we felt on our journey. We will be trying to use words that show how the story setting changes and this impacts on how we feel.
The focus today will be to write in descriptive sentences about the journey. We would like to see some adjectives and maybe even a simile used as part of the descriptive passage.
We would also like the children to include:
*capital letters at the start of sentences
*finger spaces between words
*full stops or even exclamation marks at the end of their sentences.
You can write straight into your book if you prefer. Here is a prompt picture that might support you in structuring your writing:
Handwriting:
In class we will be working on forming the letters q and g with the correct sequence of movements- we will focus on the correct direction of movements, keep the letters a consistent size, position them on the lines and show the clear descenders for q and g under the line.
These short videos demonstrate the letter formation that we teach:
Spellings:
Please continue to learn the spellings for a quiz on Friday:
yawn, claw, drawn, share, care, spare, go, so
Nessy spelling- You might like your child to complete 10 minutes on Nessy spelling today, if you find a free slot of time throughout the day.
Reading:
Please try to read for at least 10 minutes at home today.
If you didn't draw or write about what you read yesterday, you might like to do so today but this is optional.
You might like to log on to the 'Teach your monster to read' website.
It is a game that most children will love and works through progressive levels to aid confidence and support them to progress a step at a time. It is something they will hopefully be able to work on with a degree of independence. Here is the link- it is free for computers:
Sign Up and Play - Teach Your Monster to Read
Maths Zoom 11:00am:
Main focus: In maths today we will be continuing with subtraction and crossing ten.
Here is the video – you might like to watch it before or after the Zoom session.
Main Lesson Worksheets- These are the main worksheets for today.
Consolidation: If the main worksheet above looks a bit daunting then you could use the following sheet to work on counting back on a number line with pictures - or you could use objects / tens frames to help you work out the answers
Challenge: If you confidently completed the main worksheet - then those of you who are looking for an extension could have a go at the following challenge:
Phonics Zoom 1:00pm:
We will be recapping on the two sounds we have looked at this week in our phonics sessions: are - care and share and aw - yawn at dawn
There is a game attached below that we will model in the Zoom session and then you might like to play this together at home.
You might also like to investigate the Phonics Play website and play the reading games for the focus sounds from either this week or last week. They are currently offering free access to the site and the following link will take you to the home page where you will find log in details for the site.
Here is the link:
Science:
Today we are going to be thinking about Evergreen and Deciduous Trees.
Here is a short information video about Evergreen and Deciduous Trees to watch.
As you watch, think about this- How are the leaves different?
Here is a song to help you remember the difference between Deciduous and Evergreen trees.
Below you will find two pictures to help you with your task today.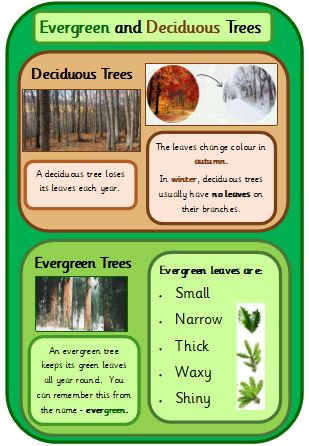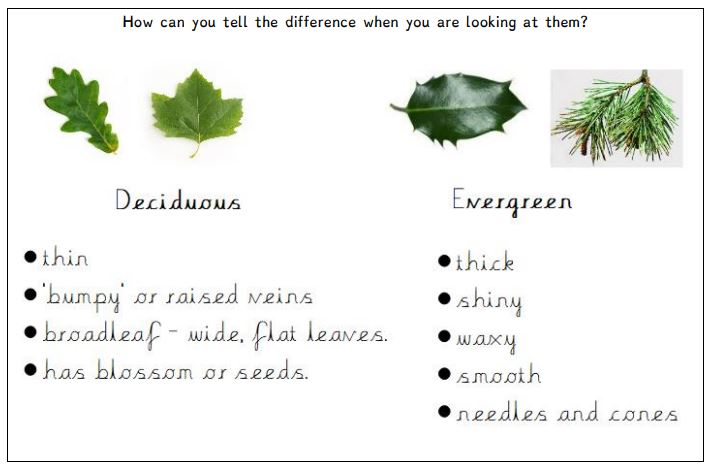 Use the pictures on the sheet below to have a go at sorting the leaves into two sets- Deciduous or Evergreen leaves.
You can either use the sheet to sort the leaves or simply draw two columns and draw (and label) the leaves into the correct set- Deciduous or Evergreen?
Challenge: Can you write a sentence explaining how you know a leaf is evergreen or deciduous?
Thank you for all of your continued support at home again.