19th January 2021 Tuesday
Good morning Year One!
We hope you enjoyed drawing your picture maps and maps with symbols / keys yesterday.
You are welcome to have these ready to share as you join our first Zoom meeting, if you would like to.
Physical Activity:
You might like to start your day with the Joe Wicks workout on the page for yesterday, if you did not have time to join in, or you might like to have a go at the Cosmic Kids yoga session below:
Literacy:
Zoom 9:30am
Today we will be looking at different images from the setting of the Red Riding Hood story. We will be describing what we see in the images and thinking of interesting ways to describe them.
We will be comparing and contrasting the woods near to where Red Riding Hood lives, with the dark and gloomy depths of the deep, dark woods where she meets the big bad wolf.
Here are some photos you might like to print off or you can look at them on the screen here: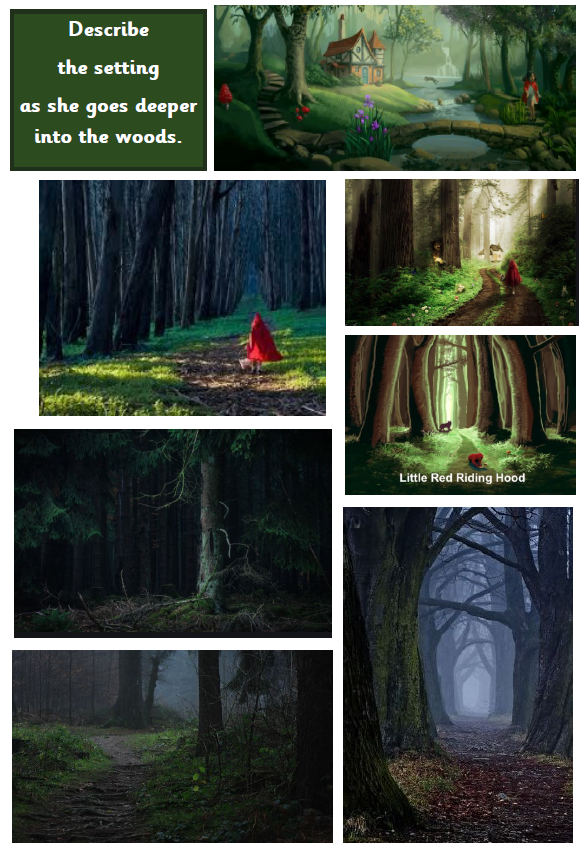 After the zoom meeting the children will be asked to write short descriptive phrases or sentences to describe the two different settings.
Some children might include adjectives and some children might include some simple similes to compare a feature to something else. For example, branches like twisted fingers, toadstools as red as blood, a river as shiny as a diamond…
There are writing frames below that you might like to write on- one is for short phrases and one is for sentences. Select which is more appropriate.
You may prefer to write your ideas straight into your workbook.
Describing the setting of the woods - writing frames
Settings - Adjectives word mat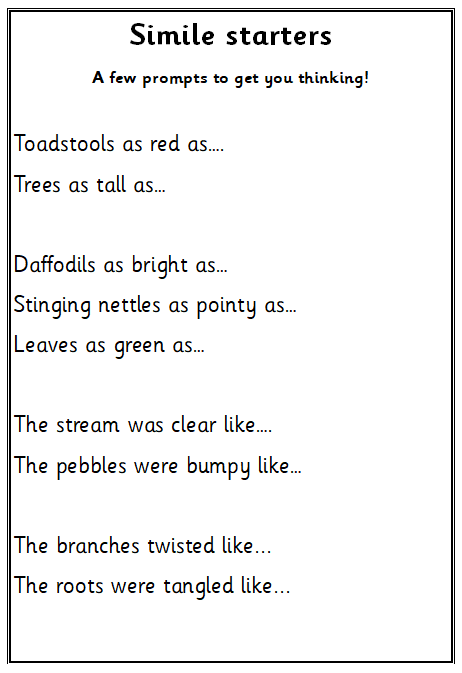 ​​​​​​​
Handwriting:
In class we will be working on forming the letters a and d with the correct sequence of movements- we will focus on the correct direction of movements, keep the letters a consistent size, position them on the lines and show a tall ascender for d.
These short videos demonstrate the letter formation that we teach:
Spellings:
Please continue to learn the spellings for a quiz on Friday:
yawn, claw, drawn, share, care, spare, go, so
Nessy spelling- You might like your child to complete 10 minutes on Nessy spelling today, if you find a free slot of time throughout the day.
Reading:
Please try to read for at least 10 minutes at home today.
Optional Reading task: You might like to draw a picture and write a sentence about the book you are reading or have just read. If you are reading a story- maybe you could write a sentence about where the story is set.
*If you have not yet logged on to the 'Teach your monster to read' website, you might like to investigate it this week. It is a game that most children will love and works through progressive levels to aid confidence and support them to progress a step at a time. It is something they will hopefully be able to work on with a degree of independence. Here is the link- it is free for computers:
Sign Up and Play - Teach Your Monster to Read
Maths Zoom 11:00am:
Main focus: In maths today we will be subtraction and we will be crossing 10.
Here is the video that you might like to look at together after the session if you would like to go over any of the learning again, together at home:
Main Lesson Worksheets:These are the main worksheets to accompany the session today.
Consolidation: If this worksheet is a bit tricky- you might like to have a go at some of the subtractions on these cards at home using objects:
Extension/Challenge: Here are some challenges for you, if you complete the main worksheets confidently. You do not have to do these but we know some of you love a challenge! They are here, if you would like to have a go:
Phonics Zoom 1:00pm:
We will be focusing on the sound: are- care and share
For example- care, share, mare, rare, hare, spare, dare, stare, fare, glare, bare…
Here are some words to read at home:
Today there is a sheet for you to add the sound buttons and read the words- aw and are

You might also like to investigate the Phonics Play website and play the reading games for the focus sounds from either this week or last week. They are currently offering free access to the site and the following link will take you to the home page where you will find log in details for the site.
Here is the link:
Geography:
Today we are going to have a go at reading grid references and finding what is in the relevant square of a given grid reference.
Here is a simple map to have a go at first: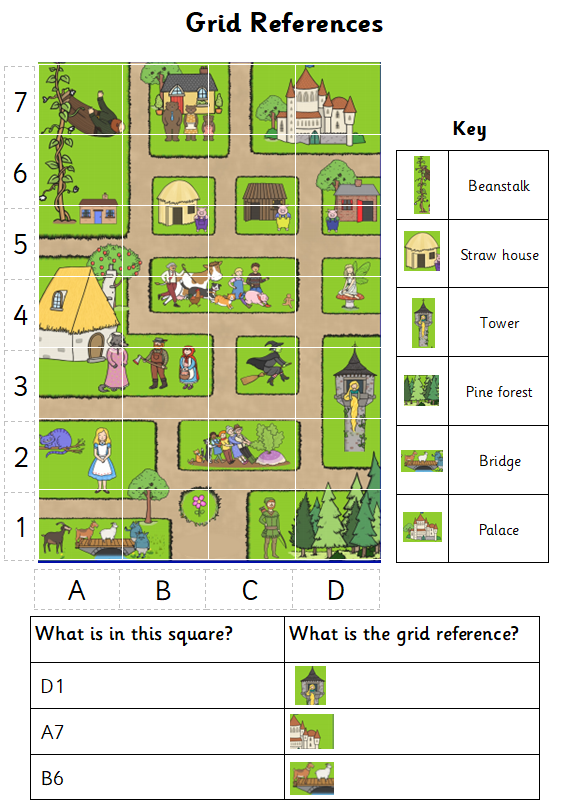 Can you write the grid references for at least 3 of the features in your own map from yesterday?
Here are two charts to complete.
There is a chart with a list of grid references for you to draw and write what is in that square on your grid.
If it is empty, you can simply put a dot or cross on the sheet.
Or - you could use the blank chart and ask a grown up to give you grid references for squares that do have symbols in them.
Thank you for your support with all of the home learning today.
​