18th January 2021 Monday
Welcome back!
We hope you have had a lovely weekend and are ready for a brand new week of home learning. This week we will be looking at the story of 'Little Red Riding Hood'.
Physical Activity:
You might like to start your day with the Joe Wicks workout - you can join in live with his session this morning at 9:00. Or you can have a go at this session from last week by watching the link below:
PSHCE:
On a Monday morning we often start our day with a PSHCE session but you can do this later in the day if you would prefer to start your day with the physical movement activity.
This week we will be talking about our worries.
What feelings are linked to a worry?
What things might cause you to worry?
Who could you go to if you were worried about something?
Here is a story to listen to about worrying. You might like to talk about the worries in the story and at the very end there is a page with a few suggestions of key parts of the story to discuss together at home:
Literacy/Geography:
Zoom 9:30am
This week we will be looking at the well-known fairy tale 'Little Red Riding Hood'.
It would be useful if you have already read the story of Little Red Riding Hood or watched the video below before our Zoom session. Thank you
Below is a short video to watch of the story being read but if you have a copy of this story at home you are welcome to share your own copy of the text.
The children are often fascinated by the different versions of this story and maybe you could talk about some of the different things that happen in different versions- for example:
*Sometimes the wolf eats Grandma, sometimes Grandma hides.
*In some versions the wolf runs away, in other versions he gets his tail chopped off, or worse!
In the zoom meeting we will be thinking about the setting of the story- 'the deep, dark woods' and considering the sorts of features we might see in forests/woods near to where we live.
Here are some pictures of natural features that you might like to look at for some ideas.
There is also a smaller word mat that you might also like to refer to:
Our key question today is: What do you think Red Riding Hood would have seen as she walked through the woods?
After the Zoom session, the children will be asked to draw a picture map of the woods, drawing the key features that Red Riding Hood could have passed on her journey through the woods to Grandma's cottage. They will then be labelling these- using their phonic prompt mats to sound out and write the labels.
Here are a couple of examples of picture maps.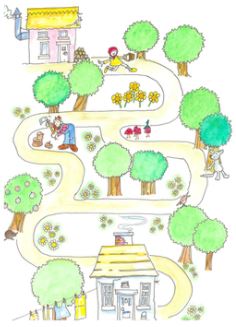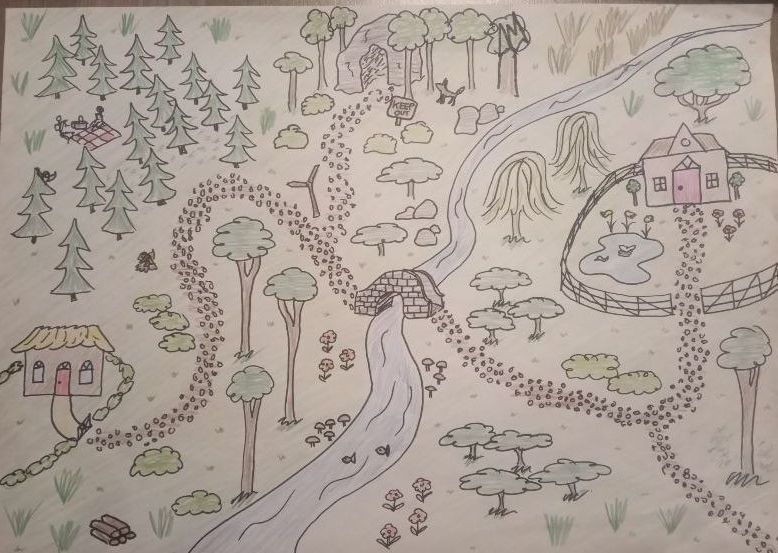 As an extension- Can your child think of adjectives to describe the key features?
For example, rather than simply writing 'tree'- they could write 'tall, brown tree'.
Here is a sheet you might like to draw on, or simply draw your picture map straight into your book.
This is a song we will be listening to and then playing during our tidying up sessions at school- you might enjoy tidying up to it at home too!
Handwriting:
In class we will be working on forming the letters c and o with the correct sequence of movements- we will focus on the correct direction of movements, keep the letters a consistent size and position them on the lines in their handwriting book.
Here are a couple of short videos that demonstrate the letter formation that we teach:
Spellings:
The spellings for this week are:
yawn, claw, drawn, share, care, spare, go, so
Please learn them at home, ready for a quiz on Friday.
The spellings for this week can also be found on the usual documents below- if you are going to print these, you will only need to print the third page for the week beginning 18th January.

Nessy spelling- You might like your child to complete 10 minutes on Nessy spelling today.
Reading:
Please try to read for at least 10 minutes at home today.
Optional Reading task:
This is an optional task- Below you will find a version of Red Riding Hood that you might like to read with your child at home. There are 3 slightly different levels. I would recommend the first page and use it as a shared reading text. You might like to ask your child the questions on page 2 but they do not need to write the answers.
Teach your Monster to Read
If you have not yet logged on to the 'Teach your monster to read' website, you might like to investigate it this week. It is a game that most children will love and works through progressive levels to aid confidence and support them to progress a step at a time. It is something they will hopefully be able to work on with a degree of independence. Here is the link- it is free for computers:
Sign Up and Play - Teach Your Monster to Read
Maths Zoom 11:00am:
Main focus: Subtraction- counting back – crossing 10
Here is a video for you to watch if you would like to pre-teach or re-watch the learning from the Zoom session today.
Below you will find the worksheets for today.
Consolidation: If the sheets above are a bit tricky, you might like to have a go at using these pictorial sheets attached below:
Challenge: The sheets below are optional. They are for anyone at home wanting a bit more of a challenge!
Phonics Zoom 1:00pm:
We will be focusing on the sound: aw – yawn at dawn
For example- yawn, dawn, claw, saw, raw, lawn, draw, drawn, fawn, paw, flaw, prawn…
Here is a game will share with you in the session to have a go at afterwards:
Phonics Play
You might also like to investigate the Phonics Play website and play the reading games for the focus sounds from either this week or last week. They are currently offering free access to the site and the following link will take you to the home page where you will find log in details for the site.
Here is the link:
Geography:
In class we will be talking about maps and using symbols to represent features.
We will look at some simple maps and how key features are shown and then find out what they are in the key.
Here is an example to talk about: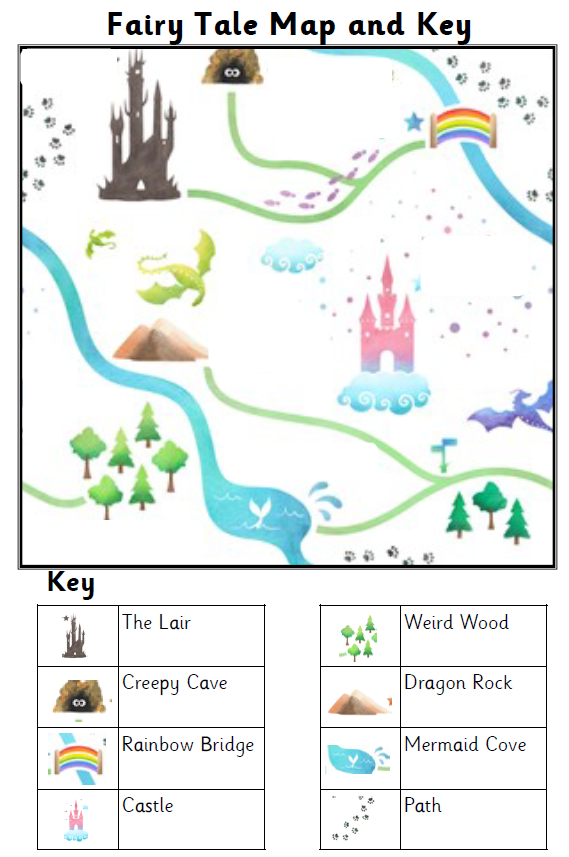 We will look at the picture maps we drew in the morning and discuss the sorts of symbols we could use for different features. We will emphasise that it could just be a simple shape / different colour. We would like the children to think about the position of the features they drew on their picture map and try to locate the same features on the map grid in a similar position. They then need to draw the same shape in the key and write the word to explain what the shape represents on the map.
For example, if Red Riding Hood's house is at the top left of the page, it should be positioned in the top left of the grid. It could simply be represented by a red triangle. The same red triangle would then be drawn in the key and the word 'house' written next to it in the key.
Here is an example of the sort of thing we will be looking for:
This is an example of a picture map drawn this morning: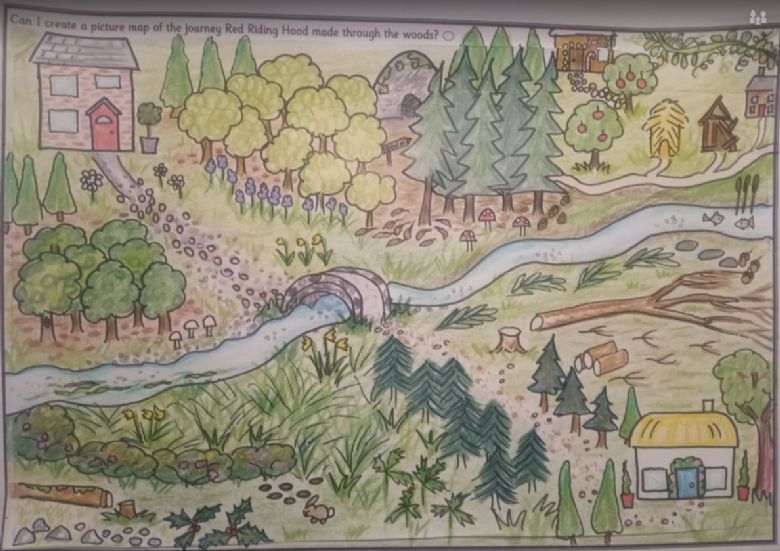 Here is an example of a key with pictures taken straight from the picture map.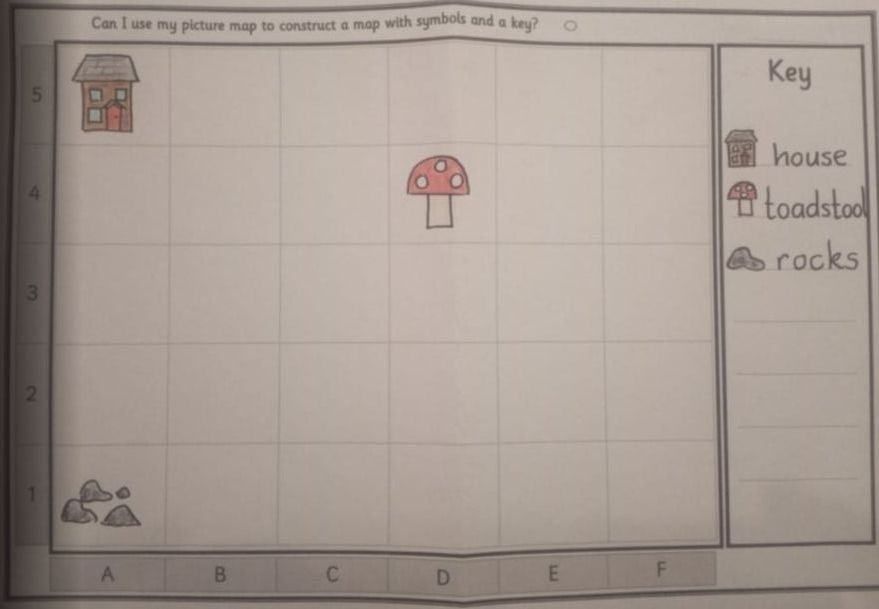 Here is an example of a key with symbols. This is what we are looking for!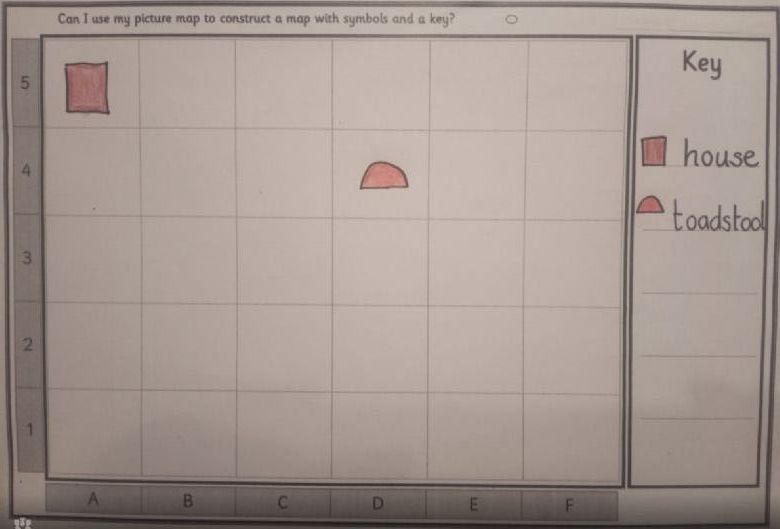 You can either print out the grid below to draw your map on, or draw your own similar grid. The purpose of drawing it onto a grid, is so the map is ready for our session tomorrow on grid references.
Thank you for all your hard work at home today.