15th October 2021
Hello Year Four,
If you are at home with Coronavirus, we hope you are feeling okay and are well enough to complete some work here. We hope you enjoyed your tasks yesterday and have a good day today.
If you would like to start your day with a bit of movement, here is a Joe Wicks workout! Or you might prefer to warm up with some more relaxed stretching by joining in with some yoga:
Literacy- Apostrophes for plural possession (SPAG focus)
In class, we will be looking at the use of the apostrophe for plural possession.
Open the PowerPoint below and go through the information slides. It is best to view the slides as a presentation.
Now have a go at completing the following chart. You can write these on a whiteboard or piece of paper. The first one has been done for you.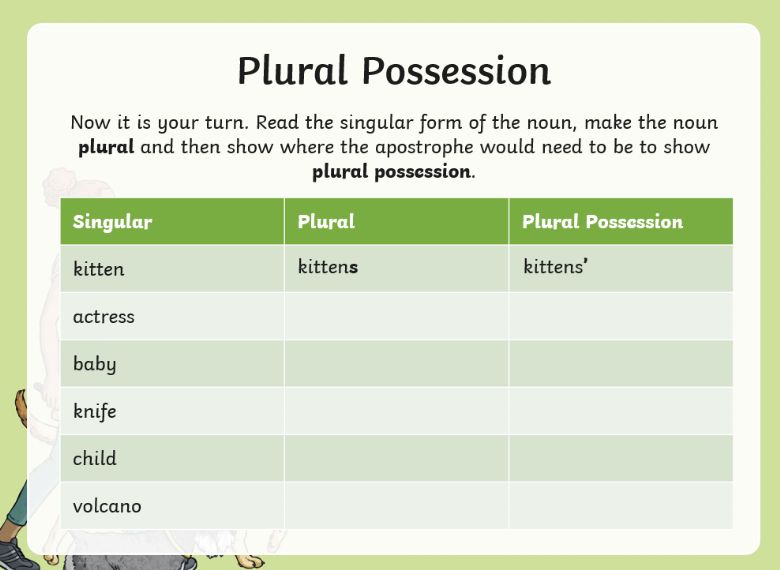 Once you have finished, you can click below for the answers to see how you did.
Main Task
Your task is to complete the sentences by making the singular noun into a plural noun and by using the apostrophe of possession correctly. There are three versions of this task- easy, medium, hard. If you are able to print, choose the version most appropriate for you and complete the sentences. If you are not able to print, you can write the sentences out on a piece of paper. The answers are provided for you to check your work.
Spellings
Continue to learn your spellings. If you are unsure of the spellings for this week, they are listed on Monday's page.
In addition to learning your spellings, you can complete the Dots and Dashes and Word Changers activities which we normally complete in our RWI spelling books. Use the attachments below to find the activities. The answers for each activity are found on page 2.
Reading
Try to read for 25 minutes today. Please remember to quiz on your book when you have finished it.
Maths Warm Up
On Fridays, we complete our speed tables. Complete the times table challenge below. See how many questions you can answer in 10 minutes? Or maybe try 5 minutes?
Main Maths Session:
Here is a video that covers the main focus of our learning today. We will be working on subtracting 3-digit numbers from 3-digit numbers with no exchanges.
Here is a worksheet that follows up the main learning:
Here are the answers:
Attached below are some additional reasoning and problem-solving questions.
Homework
In class, we will be marking our weekly literacy and maths homework. If you managed to complete the homework, you can mark it too.
Friday Afternoon Fun
Please use the time this afternoon to do something that you enjoy.
We hope you have a restful weekend.