15th January 2021 Friday
Good morning! It's Friday! We hope you have had a great week.
RE- Special people- People who help out at mass
Zoom session 9:30
In this session we will talk about the people who welcome and help at Mass on Sunday. Some people have special roles at Sunday Mass: e.g. greeters, the priest, deacon, altar servers, readers, those who take the collection, bring up the bread and wine to the altar and the extraordinary ministers of Holy Communion.
Some people help prepare the church for Mass on Sunday e.g. flower arrangers and those who clean the church.
Remember that although there are people with special roles at Mass everyone who is there is important and joins in by praying, listening, singing by saying the responses and by going forward for a blessing.
Look at the photo below and talk about the key questions: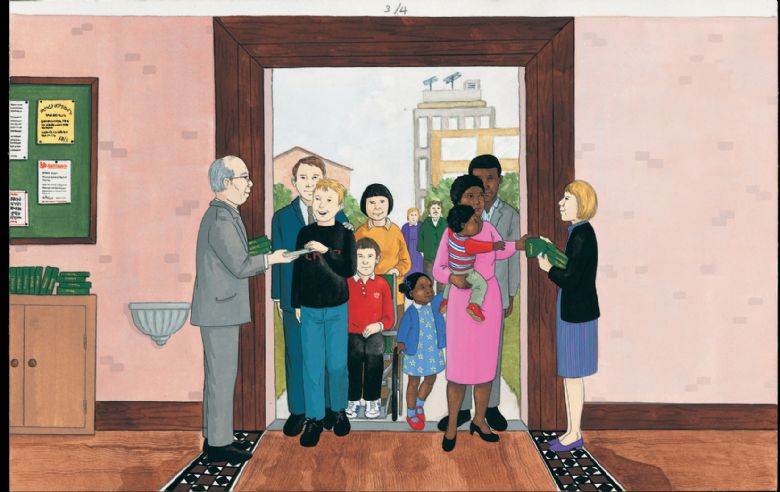 Key questions
What do you see?
Where are people going?
Who is there?
What are they doing?
What other jobs do people do during Mass?
Look at the church helpers below and discuss what they do to help.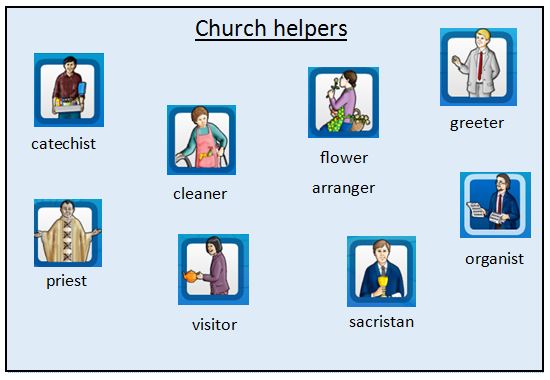 Task
For the task today you can choose from two different activities.
1. Using the outline of the church, draw somebody who helps in the church. Write a sentence to say what that person does.
2. Cut and stick the label to the correct picture. Print out the matching activity. Cut out the pictures of the church helpers and match the label that goes with the picture.
Handwriting:
This week we have been working on the ladder letters: l i j t u y.
Have a go at practising words with the ladder letters.
For example, little, joy, toy.
Please continue to practise any of the ladder letters that you haven't practised.
Spellings:
Please ask a grown-up to test you on your spellings. Good luck.
home, note, spoke, June, rude, cute, he, she, be, me
Nessy spelling- Try completing 10 minutes of Nessy spelling today.
Reading:
Please read for at least 10 minutes today.
Optional reading activities.
Pick 3 words from your book and explain what they mean.
Describe a character from your book.
Design a new front cover for your book.
Maths:
11 am Zoom session
Main session: Subtraction-Not crossing 10 (Counting back)
You can use the link below to watch the video for today's learning.
There is a worksheet attached that reinforces the learning for today. The questions get progressively harder as you work through them. Please complete as much of the sheet as you can. There is also an answer sheet provided for you to check your answers and mark your work.
If you would like a challenge, complete an activity on the diving into mastery activity cards. This is an optional activity.
Phonics:
Zoom session 1:00 pm
Today we will review all the sounds we have focused on the last two weeks.
a-e, i-e, o-e, u-e
See if you can read the words on the PowerPoint below.
Complete the following activity by writing the correct word to finish each sentence.
Science:
This afternoon we will finish our science investigation with our moon buggies. Please look back to yesterday's home learning page to find all the information. Thank you.
We hope you have had a wonderful week of home learning. Well done to all the children for working so hard. Have a lovely weekend!