13th January 2021 Wednesday
PE:
You might like to start your day with a PE with Joe Wicks session. He started these on Monday and is due to do a second live session today at 9:00. You might like to join the live event before our Literacy Zoom or you can join in with the session from Monday by clicking on the link below. This can then be completed at a time that suits you best.
Literacy:
9:30 Zoom session
We will be continuing our work on the 'Tin Forest' and today we will be thinking about re-telling the story. We will use pictures to help with this- there are some attached below for you to use at home.
We will be re-telling the story in sequence together and then the children will be asked to rewrite the story in their own words.
The writing they produce today will give them an opportunity to write a series of sentences, in order and at length.
There is a choice of activity, the second provides slightly more challenge.
Either- Use the pictures that are already in order to re-tell the story by thinking of sentences to re-tell what is happening in the pictures. You can glue the strips of sequenced pictures down the margin of your book and write sentences next to each picture.
We would like to you to select at least 3 pictures to write about.
Some of you might like to write about each picture.
Or- Use the jumbled up pictures and put them in order, re-telling the story orally as you do so. Once the pictures are in the correct sequence, start writing the story.
A few things to think about:
*Try to use words from the story, there might be some phrases you remember, such as, 'wide, windswept place' or 'his heart ached'.
*Can you use any time connectives to help the story flow? Such as- once, after, next, when…
*Where can you include some of the adjective you have used over the last two days?
As always- please re-read your sentences to check for the following:
*Finger spaces between words.
*Capital letters at the start of sentences.
*Full stops at the end of each sentence.
*Challenge- where could you use an exclamation mark?
We look forward to reading your retellings of 'The Tin Forest'- good luck everyone!
Handwriting:
In class we will be working on forming the letters u and y with the correct sequence of movements- we will focus on the placement of the letters on the line and the accurate use of the descender under the line when forming y. When writing these letters in your handwriting books:
u– sits between the two grey lines and should be placed on the bottom grey line.
y- is formed with the same sequence of movements as u but the final line descends under the line to form the tail.
If your child is forming these letters accurately- they might like to have a go at the pre-cursive letter formation shown in the short clip below. Please only introduce this if they are forming the basic letters accurately and with ease.
Spellings:
Please continue to learn your spellings for this week for your quiz on Friday:
home, note, spoke, June, rude, cute, he, she, be, me
Nessy spelling- You might like your child to complete 10 minutes on Nessy spelling today- it would be beneficial to use Nessy spelling at least twice a week.
Reading:
Please read for at least 10 minutes at home today. You can access online texts using the links sent out in the recent reading email.
11:00 Maths Zoom
Main session: In maths today we will be adding by making 10.
In the session we will go through the slides on the powerpoint together but there is also a video link below for you to watch at home, if you would like to consolidate the main points.
There is a worksheet attached that reinforces the learning for today. Everyone should be able to tackle the first question and draw the counters on the tens frames.
The calculations for the second questions should be completed by using practical resources. In school we would use tens frames. Attached below is a sheet with tens frames for you to use at home. Instead of counters you could use cut up circles of card in 2 different colours or you could use small Lego blocks or any other items that you have at home. It would be more helpful to use two colours rather than many colours so as to make the two numbers that you are combining more obvious.
The calculations for the third part are more complex and involve partitioning numbers and applying knowledge of number bonds. You might find your child would benefit from consolidating the practical stage of step two rather than move on to this section. Not all children would be expected to complete this in class. You will know if your child is ready for these questions based on how they coped with the earlier tasks.
NUMBOTS- You might like your child to complete 10 minutes on Numbots today- it would be beneficial to use Numbots at least twice a week to make steady progress through the levels.
1:00pm - Phonics Zoom
If you are working from home, please join us at 1:00pm for a whole class phonics session- we will be recapping on the o-e and u-e sounds.
Science:
This afternoon we are going to think about the different parts of a tree. This picture has labels to show you the main parts of the tree.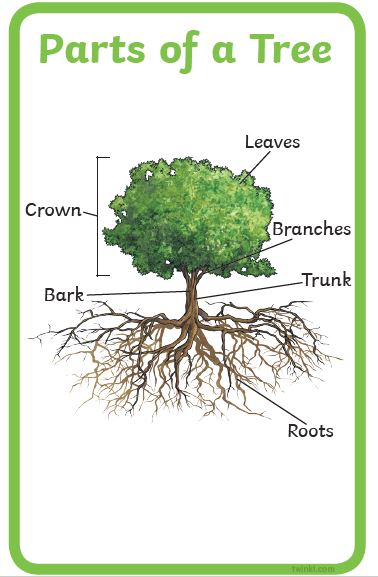 Underneath there are some short video clips to show you these parts and there is a song you can join in with to- it is the same tune as 'Head Shoulders Knees and Toes' but for trees!
For your task this afternoon, we would like you to draw and label a picture of a tree- showing the main parts.
Please draw and label the following and any others you can think of:
leaves, branches, trunk, bark, roots
If you prefer you can simply add the labels to one of the sheets attached below but some of you might like to draw your own picture to label.
You do not need to print all the pages of the document if you are going to add labels to on of the sheets- select one you feel is best for your child- some pages also include the answers.
Challenge: Can you write a short caption (short sentence) to explain what each part of the tree does?
Here the main features as a guide- this example includes captions as well as labels!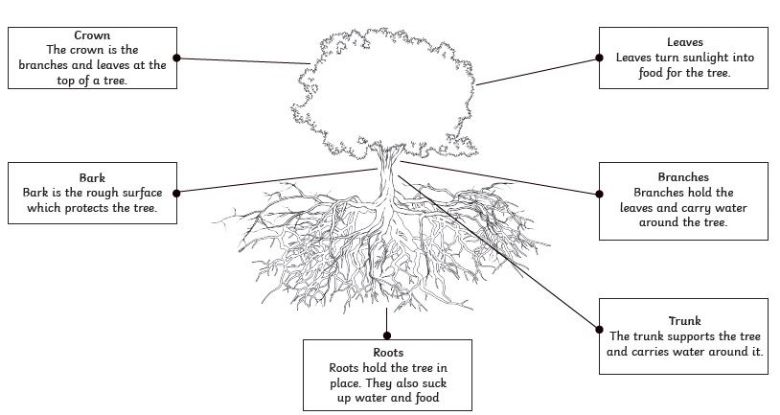 This final video shows you an oak tree and some of the animals that live there- you might like to watch it to find out a bit more about trees.
Thank you for working hard again today.