12th October 2021
If you are at home with Coronavirus and you are feeling well enough to work, here are some tasks for you to have a go at today.
Good luck with your home learning, and we hope you enjoy your tasks.
It is our PE day, today. You might like to start your day with a Joe Wicks workout or a Cosmic Kids yoga session:
Literacy:
In class today, we will be thinking about organising our writing in paragraphs.
Re-read the text from yesterday- 'Ani's Journey into the afterlife.' Look at how each section of writing is blocked based on the similar content. Once you have read the fact sheet, please put it aside and simply use the keywords to help you form your own paragraphs.
Using the attached key word sheet, have a go at writing eight short paragraphs about Ani's journey into the afterlife. There is also a sheet with additional sentence starters for each paragraph, if needed as a prompt.
Remember to:
Leave a line between each paragraph.
Use capital letters for names and at the start of sentences.
Full stops at the end of sentences.
Could an exclamation mark be used anywhere?
This video will give you more information about Ani and his journey:
Here is an additional short clip with a bit more information about the afterlife that you might find interesting:
Spellings:
Please spend some time learning the spellings given out yesterday. Here they are: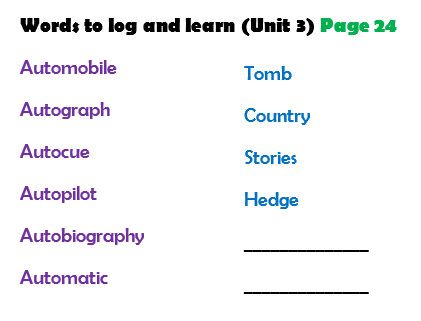 You should have also selected 2 keywords from the year 3/4 word list. If you had stories or hedge last week, then please select 2 additional keywords from the attached list:
Reading:
Please spend 25 minutes reading today. Some of this time could be reading a chapter or two of 'Mr Stink' by David Walliams. Here is the story being read online, from roughly where we got up to last week:
Maths:
In class, we are working on our 7 times table. Here are a couple of songs to join in with and write down/learn the multiplications:
Here is a link to the Supermovers x7 song:
https://www.bbc.co.uk/teach/supermovers/ks2-maths-the-7-times-table-with-moonbeam/zjp8y9q
Main maths session:
Today, we will be adding 3-digit numbers and crossing the 10 or 100 boundaries, making exchanges.
This video will give cover the main learning for today and a worksheet linked to this can be found below:
These are questions that start without exchanging and then involve crossing tens/hundreds. Have a go at the ones you feel are appropriate: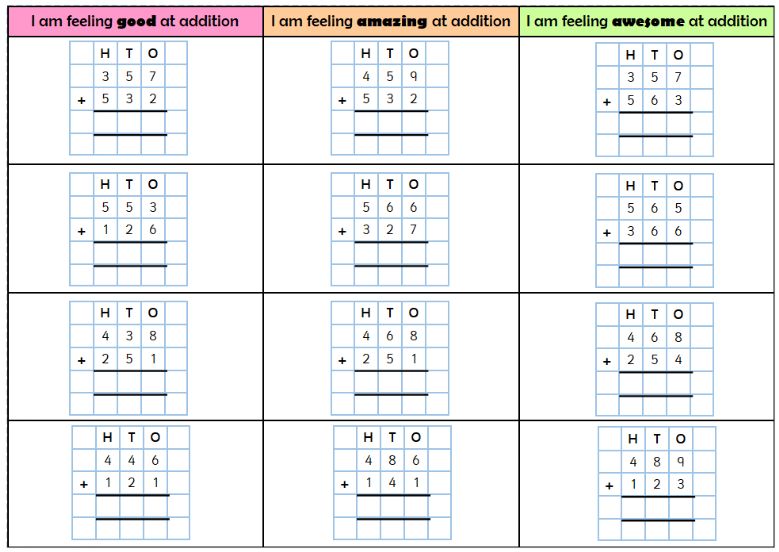 Here are some additional challenges to have a go at, if you would like to extend your learning:
Art
We will be continuing to work on our Egyptian headwear artwork. Attached below are a selection of pictures to use for inspiration.
Today, the children will be given their black and white profile portraits to cut and stick on to a large sheet of cartridge paper. They will then draw on their crown/headwear in pencil.
They will be given a choice of media to work in, either using pastels or felt tip (Sharpies) to draw the outline in a matching colour to the colour they will fill the shape/space with. Once the outlines are completed, they will then fill the space with watercolour (in a co-ordinating colour to the outline shape).
Some areas will be left blank to paint with gold paint when dry.
Don't forget your Egyptian eye-brows and eye make-up! We will use black pen for these.
Eventually, when dry, the complete piece will be cut out and stuck onto a piece of torn edged brown parcel paper for display (roughly A4 size when complete).
You can simply use whatever art resources you have a home to create your own artwork.
Here are a couple of examples: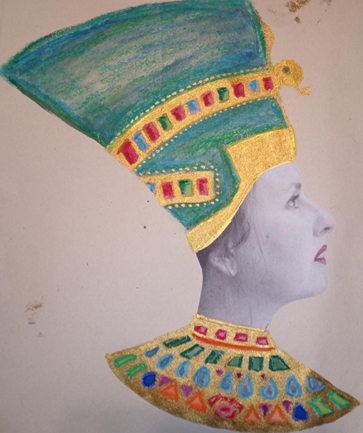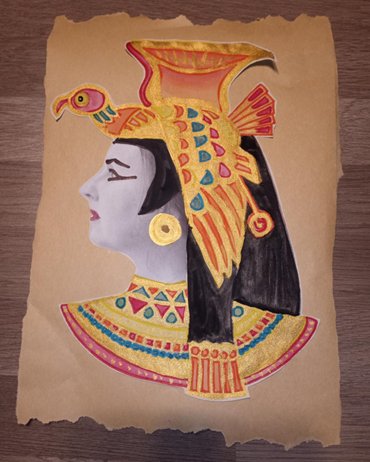 Cartouche-
You might also like to have a go at writing your own cartouche. It is an oval ring with the name of an important person such as a pharaoh inside. It would usually be vertical with a horizontal line at the bottom.
Use the attached Hieroglyphics sheet to work out the letters in your name and draw it as a cartouche.
We will be writing these on matching brown paper to display with our Egyptian headwear artwork. Here is an example: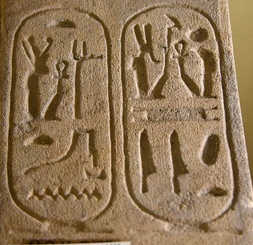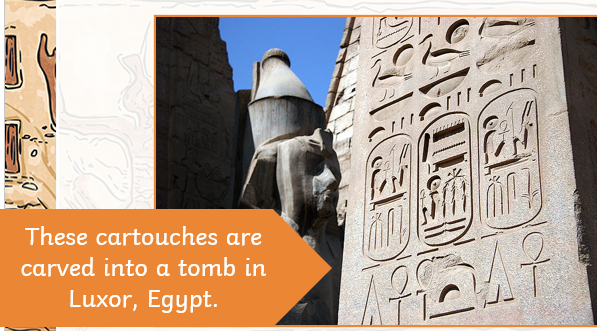 This is a cut and stick sheet, just for reference- you do not need to complete your cartouche on it!
We hope you enjoyed your work today, and we are looking forward to seeing what you produced.
Enjoy the rest of your day, and we hope you feel a bit better.