12th January 2021 Tuesday
Maths:
We are doing a maths zoom at 9am. Please use the link in the email to take part in this.
Today we are going to be looking at the 8 times tables.
If you were unable to join the zoom, click on this link to watch a video on this topic:
and work through the powerpoint below before you try to complete the worksheet.
English:
We are doing an English zoom at 10:30am. Please use the link in the email to take part in this.
Today we are going to do our first piece of writing of the term. This week we will be beginning our new topic which is 'The Romans'. To get us back into the swing of writing, we are going to do a descriptive paragraph.
Have a look at this picture: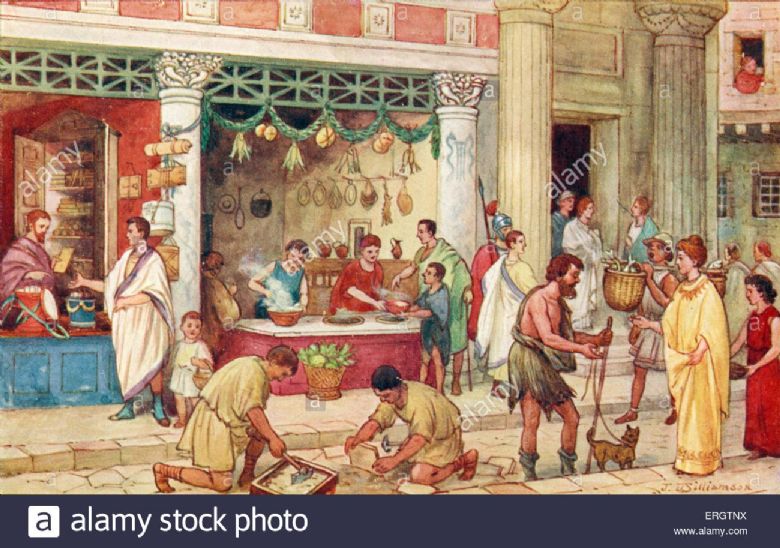 Have a think about:
What buildings can you see?
What are the people wearing?
What are the people doing?
What are people selling?
What colours are things? Are they bright, are they dull?
Your task:
Write a descriptive paragraph about this picture. Try to aim for at least 7 paragraphs.
Remember to include:
Adjectives
Conjunctions (and, but, so, which, because)
Prepositions (next to, in front of, behind, opposite...hopefully you remember lots from last week's lesson)
Adverbs (those ly words we looked at last week)
Capital letters and full stops
Start your sentences in different ways
Use a/an correctly
Here are some example sentences to help you:
In front of the kerb, there are 2 tired men working hard on the pavement. Interestingly, they are using an iron tool to help them fix the dull, beige pavement. These young men are wearing beige tunics, which are the nearly the same colour as the road they are fixing.
Please don't mark or correct any of your work and the end of today's lesson. We are doing an editing lesson tomorrow where you will be given the chance to edit and improve your work.
PE:
Do you remember those activities we did as part of the Shoreham Academy virtual games? Well, they are now doing a stay at home special edition!!
Every 2 weeks, Shoreham Academy are going to release a new activity for you to do, and today you can do the first one...it involves socks!!
Click on the link here: https://primarysport.shoreham-academy.org/new-page
Watch the video and get practising!! You might like to get people at home involved too!
If you would like to submit your results, please make sure you get your parents permission!