12th January 2021 Tuesday
Good morning- we hope you enjoyed your home learning yesterday.
We are looking forward to seeing some of the tin forest collages that you have created at home!
Before our Zoom session, you might like to start your day with the handwriting as detailed below or join in with a Cosmic Kids yoga session:
Literacy:
9:30 Zoom session
We will be continuing to talk about the setting of the 'Tin forest' story and today we will be comparing the two types of forest in the book.
Our focus will be: What is the same and what is different about the real forest and the tin forest?
We will discuss this during the Zoom meeting.
After the input session, the children will be asked to write lists, under the given headings, as shown in the attachment below.
What is the same in both forests?
What is different about the two forests?
For example, both forests have leaves but they look and would feel different.
Real forest same Tin forest
Green leaves leaves silver leaves
Brown rough tree trunks tree trunks shiny smooth trunks
Your child does not have to write in sentences for the writing today. They can simply think of words to explain the differences.
As a minimum, they should aim to think of at least 3 features that are the same and how they are different. At least two of these should be their own examples, rather than those discussed in the input.
However, as an extension, your child might like to write a sentence explaining how one of the features is different in each forest.
Please refer to the phonics prompt sheets to help you when sounding out any words and use the word mat as appropriate. Thank you
These pictures are also attached below if you would like to print them off to refer to: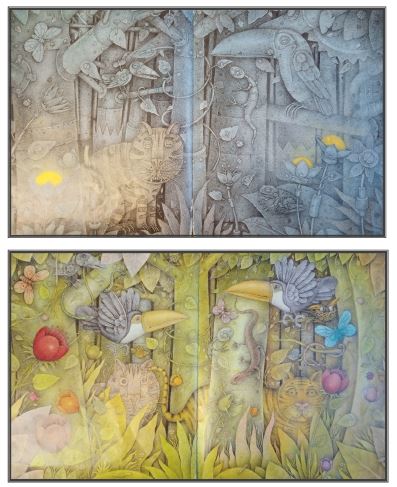 Handwriting:
In class we will be working on forming the letters t and j with the correct sequence of movements- we will focus on the required letter height in relation to each other and their placement on/within the lines.
t – is a tall letter with an ascender and needs to go up to the top red line in the handwriting book.
j- has a descender which goes under the grey line that we usually sit our letters on.
Try to write the letters carefully and write at least 6 of each letter.
Can you think of and write any short words with these letters in them?
For example, jet, jolt, jam, tap, test, jest...
If your child is starting to form these letters accurately (from the top) they might like to have a go at learning the lead-ins- in readiness for joining letters. This is shown in the video clip below.
Please only teach this to your child if they are forming all letters with the correct sequence of movements.
Spellings:
The spellings for this week are:
home, note, spoke, June, rude, cute, he, she, be, me
There will be a quiz on Friday.
Nessy spelling- Log into Nessy spelling- your child could complete 10 minutes on Nessy spelling today- it would be beneficial to use Nessy spelling at least twice a week.

Maths:
WARM UP:
Listen to and join in the following songs to help you with recalling number bonds for 10.

11:00 Maths Zoom
Main session: In maths today we will be finding number bonds for 10
In the session we will go through the slides on the powerpoint together. It will be showing us how to play a simple game with a partner.
Today will be a practical activity to get us ready for the follow up lesson tomorrow.
Here is a video if you would like to watch it together at home:
Recall session-
At home you might like to note down all the pairs of numbers that add together to make 10.
You could make yourself a colourful poster to help you remember them.
There is a rainbow sheet in your pack that was collected on Friday and this might help you with your poster.
* If you are feeling particularly inspired you could even make one for number bonds to 20!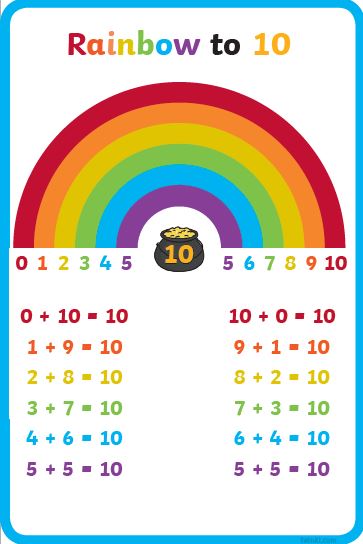 NUMBOTS- You should all have a Numbots maths log in to use at home. Please contact us if you are unsure of your log in and we will re-send it to you. You might like your child to complete 10 minutes on Numbots today- it would be beneficial to use Numbots at least twice a week to make steady progress through the levels.
Phonics - Zoom 1:00
If you are learning at home, you might like to join us for our whole class phonics session at 1 o'clock today.
Phonics:
We will be consolidating reading and spelling words with the split digraphs: u-e
For example- huge, brute, June, Jude, tune…
Today you might like to do the second part of the sheet that would normally be sent home on a Wednesday- add the sound buttons to the u-e words. It is attached below - but if you printed all of the document yesterday, you will have printed the u-e page already.
Also attached below is a game to play- roll a dice and read a u-e word from that column. If you can play with a partner- can you try to be the first to get 3 in a row?
Reading:
Please read for at least 10 minutes at home today. You can access online texts using the flinks sent home in the recent email.
Art:
Today we will continue with forest inspired artwork. We would like you to have a go at creating your own real forest collage.
To create your collage at home you could use scraps of paper, material, thread, colours from magazines or newspapers or even food packets… Whatever you can find and are allowed to use! Be as creative as you can- without cutting up the curtains!
Think about all the different features you might find in a forest and cut and stick (or arrange them if you don't have glue) to make a forest scene.
There is a picture below to give you some ideas on how to use paper to create different textures and shapes. For example, you can twist, twirl, rip, fold, cut, crumble and bend paper for a range of effects.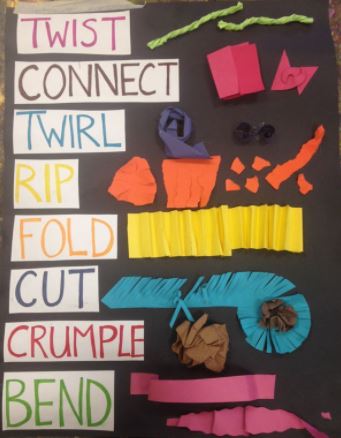 Here are some examples for ideas: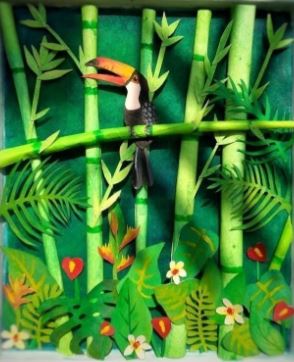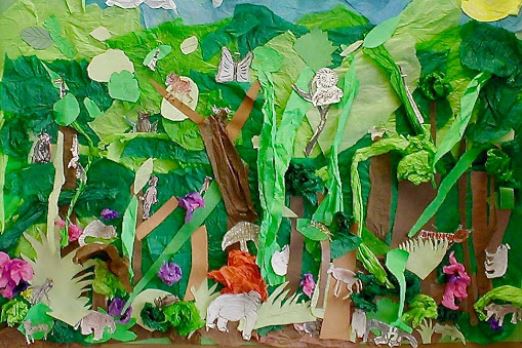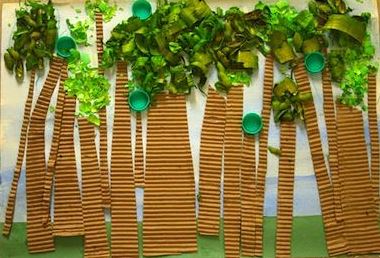 We look forward to seeing your creations.
Thank you for all of your continued support at home.