12th February Friday
Good morning! It is the last day of term today.
Homework:
We will be inviting 2 more children at each Zoom session to share any homework from this half term that they might like to share with the class- they do not have to if they do not want to!
Active start:
Here is a cosmic kids yoga session that you might like to start your day with at home:
Literacy-Snowmen all Year
Today we will use the recent snowy weather and a story about a snowman as our inspiration for a writing task.
Did anyone build a snowman this week?
Here is my snowman I built at the start of the week.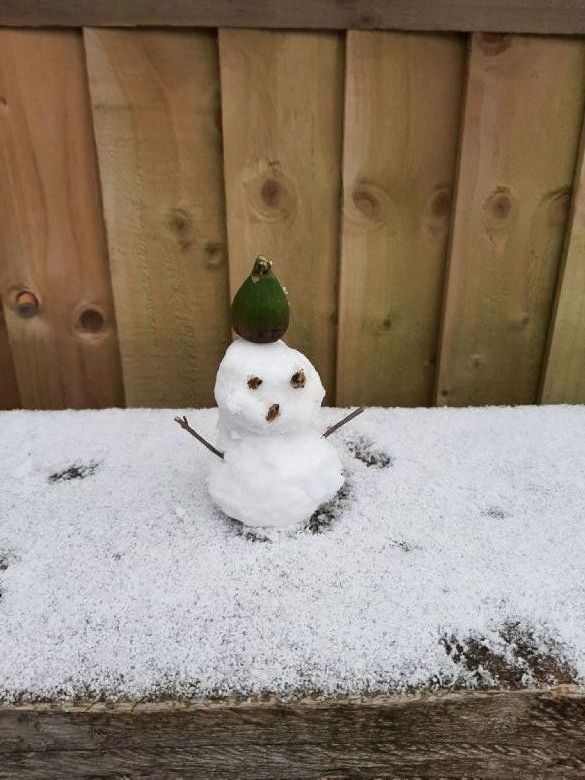 Watch the the story of Snowmen All Year by Caralyn Buehner.
What would you do if you had a snowman all year?
Think about all the seasons: Spring, Summer, Autumn and Winter. What would you do with your snowman in each of the seasons?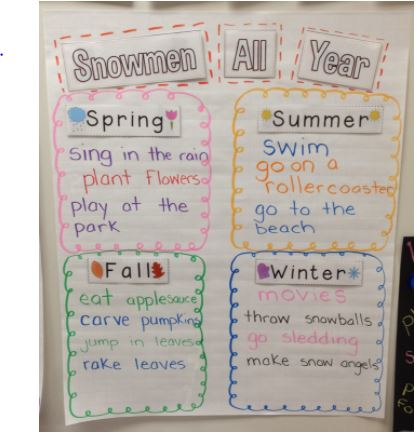 Task
You can choose from one of the following tasks:
1. Draw a picture of what you would do with your snowman in each season. Label your picture. You can use the template below if you wish or do the work straight into your workbook.
2. Write a couple of sentences about what you would do with your snowman. You can use the template below to write on. There are two versions; one with a sentence starter and one without.
Handwriting:
Today, we would like you to continue to work on any particular letters you still need to form accurately.
Check the letter families and make sure you are starting them all in the correct place:
Curly caterpillars – all start where you would start a 'c' – at the top.
Long ladder letters – all start at the top.
One armed robot letters - all start at the top, go down and then you retrace back up the same line before going into the curve.
Zig zag monster letters – check the correct start place for these letters.
If you are forming all letters correctly and you can write your whole name accurately, this week we would like you to work on writing the days of the week – all with the correct letter formation, careful size and shape of letters and accurate placement on the line:
Monday, Tuesday, Wednesday, Thursday, Friday, Saturday, Sunday
Use your handwriting book to remind you of the height of each letter. You could work on 1 or 2 each day rather than all of them every day!
Spellings:
It's time to quiz on this week's spellings:
Team, seal, cream, soil, coin, oink, pull, full
Good Luck. Let us know how you get on.
Maths: Counting in 2s and 5s
Zoom 11:00am
Today we will be reviewing counting in 2s and 5s. Let's start with some songs to get us moving! Choose from a few songs below.
Here are some practical activities you could do counting in 2s and 5s. You do not need to complete all these activities. Do as many as you like/have time for.
1. Use 2p and 5p coins to count forwards and backwards.
2. Skip or bounce a ball counting in 2s or 5s. Can you get to 100 without stopping or dropping the ball?
3. Design a game which includes counting in 2s or 5s.
4. Use a paper plate to make a lacing plate like the picture below but for counting in 5s. A piece of card or cardboard would also work instead of a paper plate.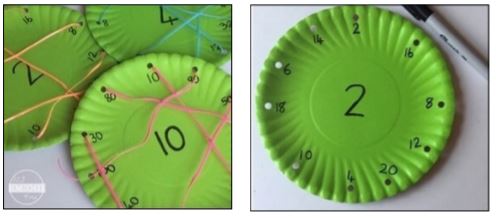 5. Cut out the paper chains on the link below. Muddle them up and make a counting in 5s paper chain.
Online activities:
Whack a Mole (set to counting in 5s from 0)
Coconut Multiples (Select the X5 option)
Phonics:
Zoom 1pm
We will be reading and spelling words with the ll sound.
For example- smell, shell, jelly, grill, yellow...
You can watch the short video on the BBC Bitesize by clicking on the link below.
'l' and 'll' sound- BBC Bitesize
Task
'll' word hunt- Look through your favourite books at home. Can you find 10 words with the 'll' spelling? Write them down in your workbook.
Snowman craft
If you enjoyed this morning's snowman story, why not try this snowman craft this afternoon.
Finally...
Learning new things can be tough! It can feel like we have a monster in our minds saying 'you can't do it!' In the video below, Jaime shares how to overcome the hard bit of doing something for the first time.
Thank you for working so hard this half term. We hope you enjoy a well deserved break!