11th January 2021 Monday
Literacy:
Zoom 9:30am
This week we will be looking at the story 'The Tin Forest' by Helen Ward.
Below you will find a video of the story being read and a short animation of the text.
Please look at these at home before the Zoom session so your child is familiar with the text. Thank you.
We will be recalling parts of the forest that the man made out of tin. We will be listing these and thinking of words to describe the metal forest in the story.
The children will then be asked to draw some of the features of the tin forest that they can recall and describe these using adjectives.
They will write labels to describe the items they draw.
Attached below you will find a few examples to help you if you are supporting your child at home. There is also the sheet that we will be drawing on in class- we will be writing our labels on post-it notes and sticking them onto the picture. You might prefer to simply draw on a piece of paper that you have at home or draw straight into your new home learning books (collected Friday).
As you label the features with adjectives- refer to the phonic prompt sheet that we will be using in class to sound out and write the words.
* A copy of this prompt sheet was in the pack sent home for the Reading meeting last term. A copy is also attached below for your reference.
Here is a picture of the tin forest to help with the task: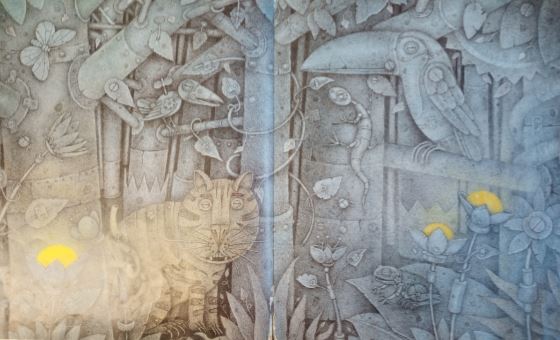 Here are some words to help you with your describing: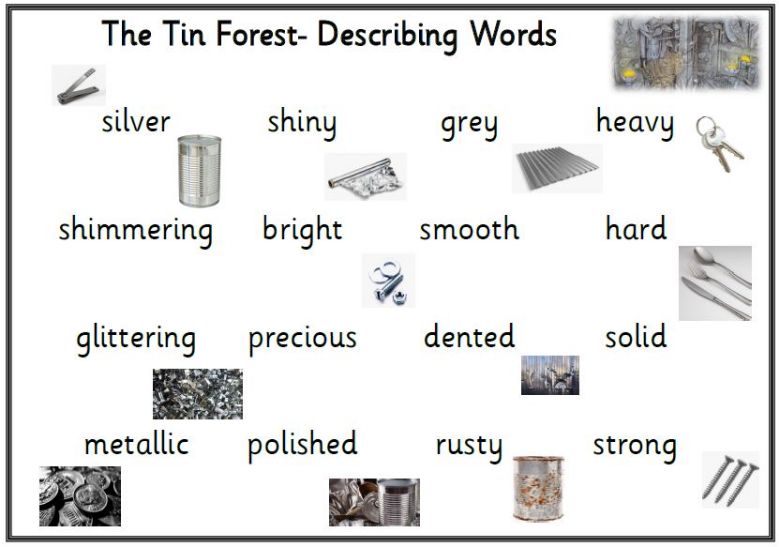 Handwriting:
In class we will be working on forming the letters i and l with the correct sequence of movements- we will focus on the required letter height in relation to each other.
We will be writing these in our handwriting books keeping the letters carefully positioned on the line and maintaining a consistent size. There is a handwriting book in the pack you may have collected on Friday. At home, there is a sheet below you might like to have a go at.
Spellings:
Spellings will be set on a Monday to be worked on at home ready for a quiz on Friday.
The spellings for this week are:
home, note, spoke, June, rude, cute, he, she, be, me
The spellings for the half term are on the documents below. Each page is dated - you need the second page for the week beginning 11th January. The look, cover, say, write, check sheets are also there to use if you find them useful or feel free to continue to learn them in your own way.
Nessy spelling- You should all have a Nessy spelling log in to use at home. Please contact us if you are unsure of your log in. You might like your child to complete 10 minutes on Nessy spelling today- it would be beneficial to use Nessy spelling at least twice a week.
Reading:
Please read for at least 10 minutes at home today. You can access online texts using the following links on the recent reading email.
Maths:
WARM UP- Quick recall of the pairs of numbers that add together to make 10.
Can you write them quickly in order?
11:00 Maths Zoom lesson:
Main session: In maths today we will be finding number bonds for 10 and using these to make number bonds for 20.
There is a video link here for you to watch at home if you would like to and we will go through the slides on the powerpoint together during the Zoom.
There is a worksheet attached that reinforces the learning for today. The activities get increasingly harder as you work through the sheet. Your child does not have to complete all the questions at home. Complete at least the first two questions and either complete further examples of this type if consolidation would be beneficial or move on to the next question if you feel it is appropriate for your child.
NUMBOTS- You should all have a Numbots maths log in to use at home. Please contact us if you are unsure of your log in and we will re-send it to you. You might like your child to complete 10 minutes on Numbots today- it would be beneficial to use Numbots at least twice a week to make steady progress through the levels.
PSHCE:
We will be thinking about staying safe.
This session also links to the RE from last week.
What people in the community carryout jobs to keep us safe?
What is it that they do?
Who else can help keep you safe?
(There is a picture below to prompt a discussion at home).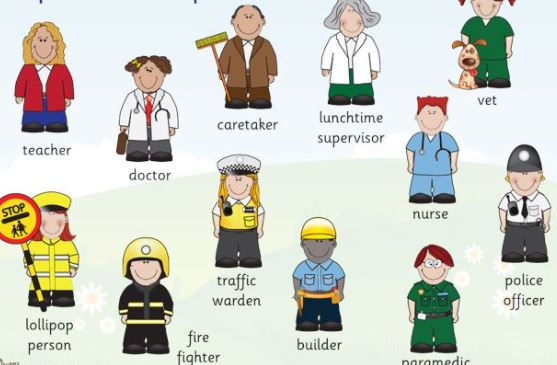 When might you need help from some of these people?
*What would you do if you needed an ambulance in an emergency?
Phone 999
This is the number for the emergency services - the ambulance, police and fire services.
You should only call the 999 emergency number if:
there's a medical emergency – someone is seriously ill or injured and their life is at risk
there's a fire
a crime is taking place
This session only needs to be a discussion- however, if your child would like to draw a picture of someone who helps to keep them safe and write a sentence (or two) about how they keep them safe, they are welcome to do so but this is not essential. We just need to have talked about it. Thank you.
Phonics Zoom- live lesson at 1:00
If you are learning at home, you are welcome to join us at 1:00 for our live phonics whole clas input session.
Phonics:
We will be consolidating reading and spelling words with the split digraphs: o-e
For example- home, phone, bone, stone, tone, vote, slope, mope, zone, hope…
The sheet that would normally be sent home on a Wednesday can be found below. You could do the first part today- add the sound buttons to the o-e words.
At home you might like to watch this short clip about the o-e sound:
Art:
In class we will be creating our own 'junk' 3D collages using bottle tops, egg boxes, buttons, beads, cardboard and kitchen roll/wrapping paper tubes (cut up)- whatever you have at home…
The children will be making their own 'tin forest' on a square or rectangle shaped piece of cardboard. They will be asked to create a 3D collage of things found in a forest for example- flowers/leaves/trees/vines or even animals that live there.
In school we will spray the collage boards with a silver spray to complete the 'tin forest' appearance. You do not have to do this at home! Your child might like to paint it once dry if you have paint but a natural 3D board would be just as good.
Here are some examples of 3D flowers made with egg boxes.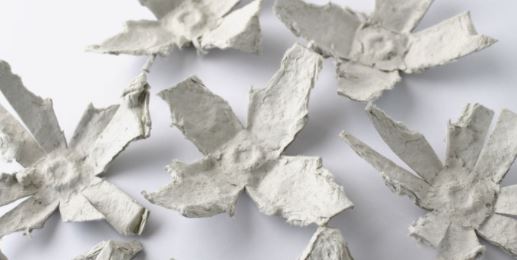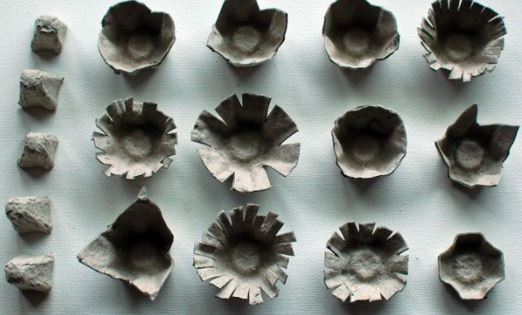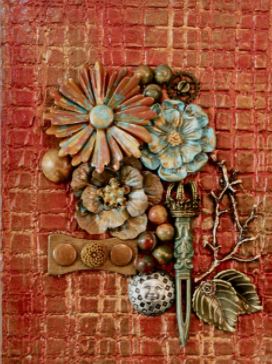 Above is an example of how different materials can be put together to create a 3D panel. We will be using card and junk to achieve a similar forest inspired look!
We are looking forward to seeing how creative you can be!