1 February 2021
PSCHE
Today, we are thinking about times when friends and family may not have the same response as you.
How can you say no to someone without hurting their feelings?
Sometimes its okay to have different opinions and to want to do different things.
Task: Talk through the sheet with an adult at home.
Maths:
Today, we are starting to learn about the area of shapes.
Do you know what area means?
Area is the amount of space a 2D shape takes up. It is different to the perimeter, because perimeter is around the outside, the area is the inside. Watch the video to help you understand:
https://www.youtube.com/watch?v=rSVMrPu0__U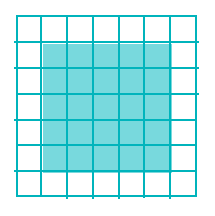 The blue square takes up 25 squares, so it's area is 25.
Have a look at the PowerPoint and then try the worksheet.
Spellings:
Please have a go at 'Choose the right word' for Unit 7 in your purple spelling books.
English (Zoom input at 10:30):
Join us in our Zoom session to read another chapter of How to train your dragon.
Task: Today we will be completing a reading comprehension about Greta Thunberg. Like us, she cares about saving the environment! Choose the level that suits you best and then mark your answers when you have finished.
RE
Today we are continuing to consider communities, but today we are thinking about how YOU support and help the communities you belong to.
How do you support the communities you belong to? See if you can come up with four different ideas?
Last week, we looked at Romans 12:8-11. We discussed how Jesus had given his apostles some instructions to follow, helping them to become supportive community members.
Who inspires you in your community? Why?
Task: Your task today is to consider times that you have done each of these tasks. Then you must consider how each action helps your community.
Challenge: write a thank you note to someone in your community who you respect and appreciate.